In the digital marketing world, knowledge is power. One of the most valuable pieces of knowledge is understanding the traffic that your website and your competitors' websites attract. Whether you're a marketer, an SEO expert, or a webmaster, having the ability to check website traffic is an essential skill.
In this article, we'll explore the top 5 tools that you can use to check the traffic of any website, including your competitors'. By the end of this article, you'll be equipped with the knowledge to make informed decisions and strategies to boost your website's performance.
1. SEMrush
SEMrush is a comprehensive digital marketing toolkit that offers a robust website traffic checker. It provides detailed insights into your competitors' strategies in display advertising, organic and paid search, and link building.
With SEMrush, you can analyze your competitors' audience and their user behavior. You can also discover your rivals' top-performing content and see how your website stacks up against theirs.
SEMrush is a paid tool, but it offers a 7-day free trial, which is a great way to test out its features. If you find it useful, you can continue with a paid plan.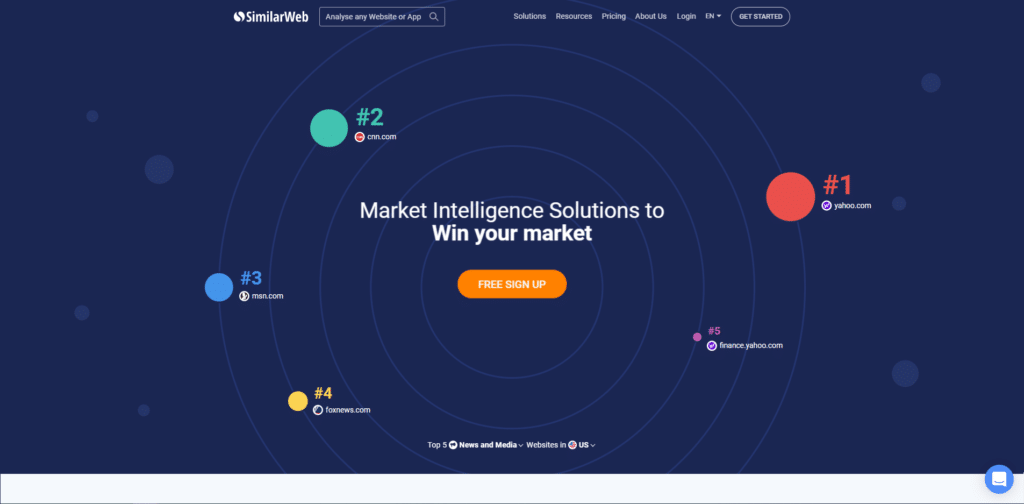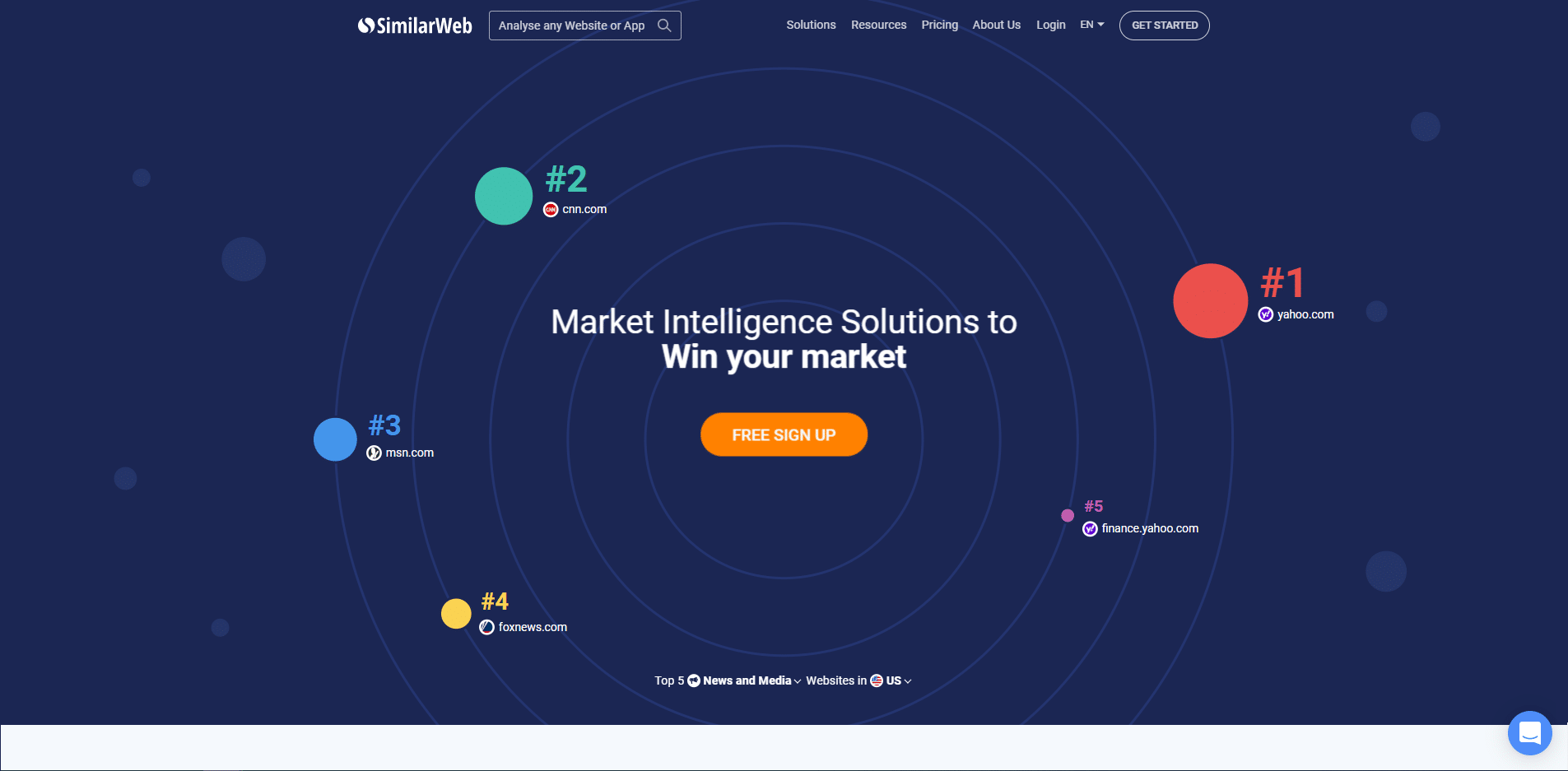 2. SimilarWeb
SimilarWeb is another excellent tool for checking website traffic. It provides a comprehensive overview of a website's reach, ranking, and user engagement. You can use SimilarWeb to analyze your competitors' traffic sources, top referring sites, and the top keywords leading users to their site.
While SimilarWeb offers a free version with limited insights, its Pro version provides more in-depth analysis and is a great investment for those serious about gaining a competitive edge.
3. Alexa
Alexa, an Amazon company, offers a suite of intuitive analytics tools that provide insights on website traffic, keyword rankings, and competitor analysis. Alexa's traffic analysis feature allows you to see the geographic distribution of a site's visitors, the bounce rates, and the sites that people visit immediately before and after visiting the site in question.
Alexa offers a 7-day free trial, after which you can choose a plan that best suits your needs.
4. Ahrefs
Ahrefs is a well-known tool primarily used for backlink analysis. However, it also offers a website traffic checker, 'Site Explorer.' With Site Explorer, you can check a website's traffic sources, the percentage of organic versus paid traffic, and the locations of the traffic.
Ahrefs offers a 7-day trial for $7, giving you full access to all its features.
Understanding your website's traffic and that of your competitors can provide valuable insights to inform your marketing strategy. By using these tools, you can gain a competitive edge and drive your website's success.
Remember, the goal is not just to attract traffic, but to attract the right kind of traffic that will engage and convert. Happy analyzing!
---
In this post you can learn how to get a 30-days trial for SEMrush 
SEMrush is an incredible tool, but the huge number of options available can be overwhelming, and more than a little confusing if you are new to the digital marketing platform.
Is SEMrush worth it? I think so. But without testing it out yourself, how can you ever really know?
In this guide, we are going to explain why SEMrush is such a fantastic tool for SEO and digital marketing and provide you with a step-by-step guide on how you can sign up fore free:
How to activate your trial for SEMrush
PRO or GURU?
FAQs about SEMrush Plans
Why Use SEMrush?
Get Your Trial Today
We will also talk about the main features of both plans, so you can decide which is the better option for you.
Feel free to click on any of the links below to skip ahead to the section most relevant to you:
How to activate your trial for SEMrush
To activate the SEMrush 7-day Pro trial version or 14-day Guru plan is simple and quick to do.
Follow these steps below to sign up SEMrush.
1. Simply select the Pro (7-day) or Guru (14-day) buttons below to sign up for a free plan.
2. You'll need to sign up with a valid email address and choose a password. Select 'Create Your SEMrush Account'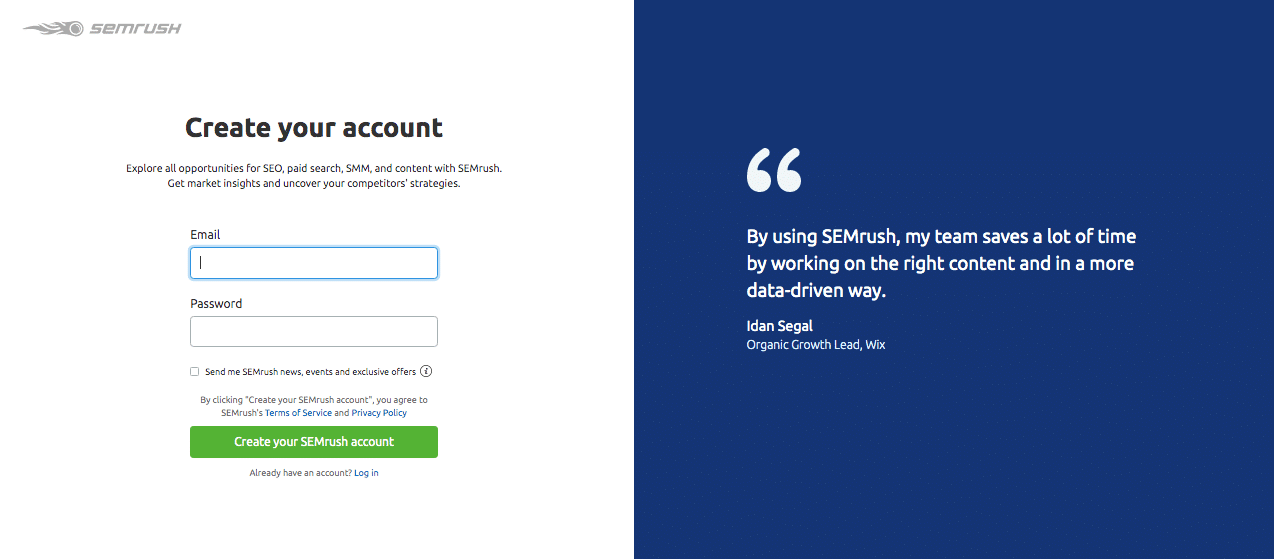 3. Next, put in your card details to activate your trial. Remember that after the free 7-day or 14-day period is over, you will be automatically charged the monthly subscription free.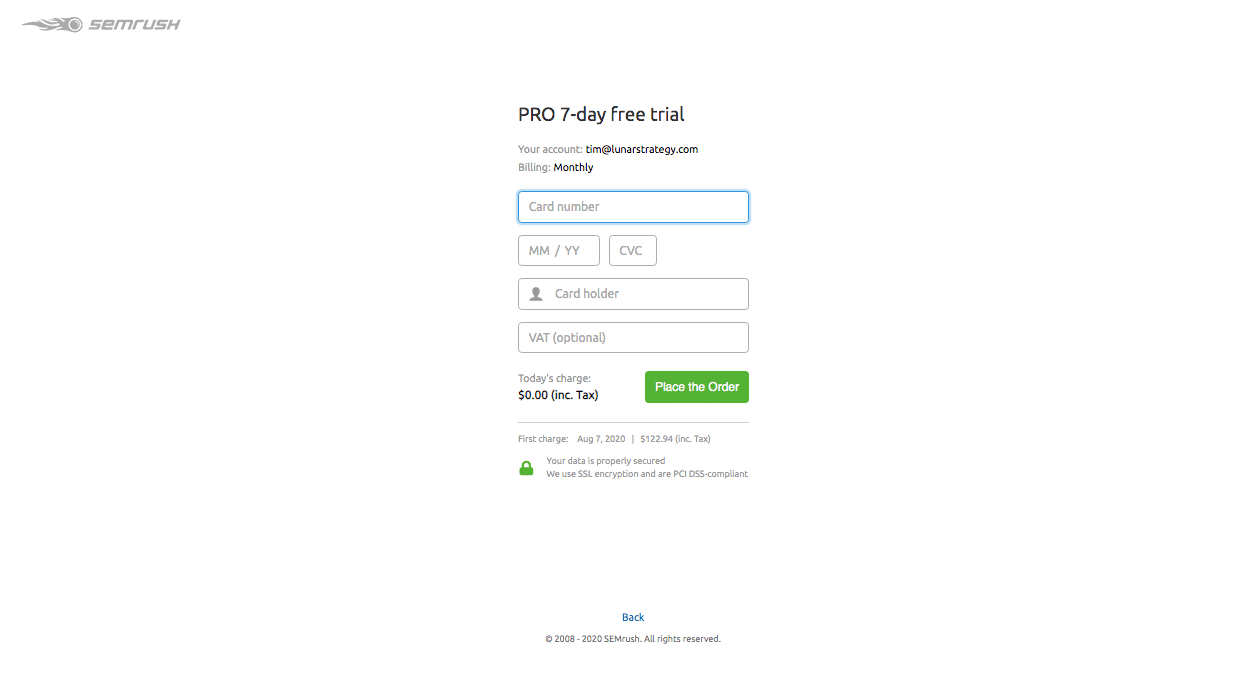 4. You're ready to go!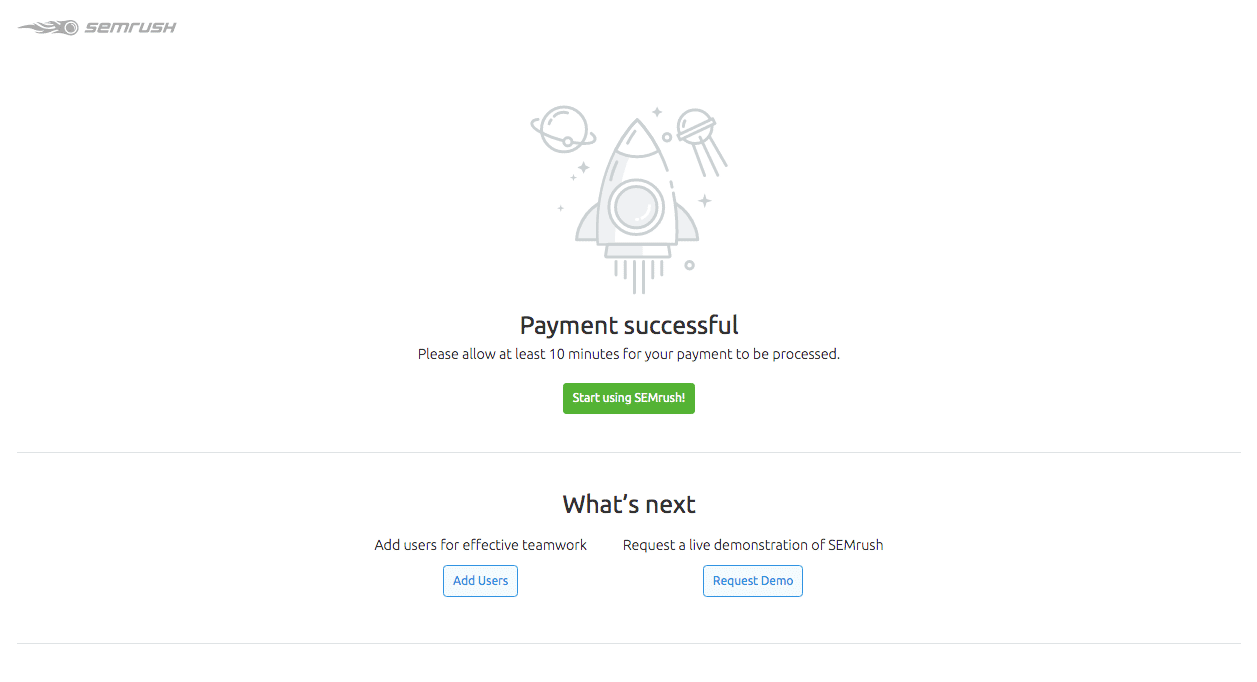 5. The last step is to select your main areas of interest for your SEMrush account. It can be skipped, but we advise choosing your preferred option to get the most out of your account.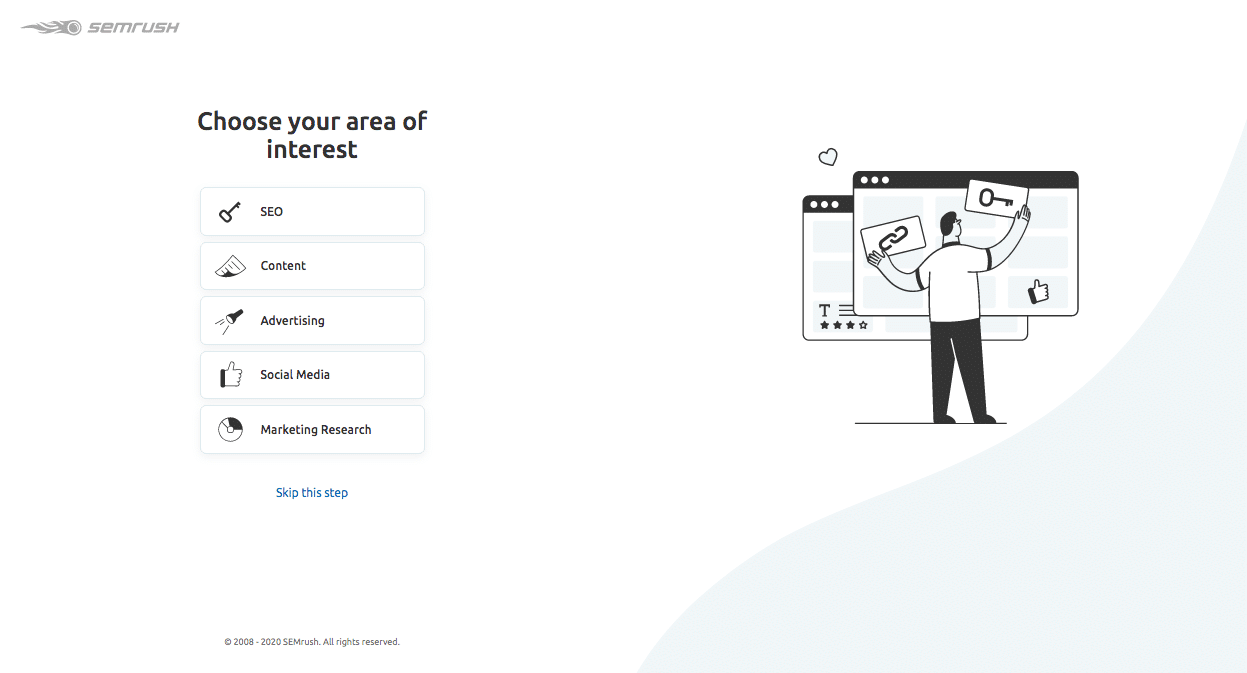 PRO or GURU?
What are the main differences between the SEMrush Pro and Guru plans, and which one should you pick?
The Pro plan is likely to better suit freelancers, marketing professionals, or those on a limited budget.
It has a cap of managing 5 projects, and you will likely have all the tools you need to manage your existing sites.
Meanwhile, the Guru plan is better suited to SMBs and agencies needing to look after more than 5 projects at any given time.
You still have all the same incredible features as the Pro plan, but you also have 45 tools in total to choose from.
The Guru plan also has extended limits and you can manage up to 15 projects at once.
SEMrush Pro
Perfect for freelancers, bloggers or those on a limited budget
Can track up to 5 projects
Monitor the daily position of up to 500 keywords
Crawls up to 100,000 pages per month
Up to 10,000 results per report
Up to 10 social media accounts for posting
5 scheduled PDF reports
$99.95 per month
SEMrush Guru
Best for SMBS and agencies
Receive all the Pro features with extended limits and access to more toolkits
Can track up to 15 projects
Up to 30,000 results per report
Crawls up to 300,000 pages monthly
Displays advertising research
Monitors the daily position of up to 1,500 keywords
20 scheduled PDF reports
Receive branded reports
Access to historical data
Can use the Content Marketing toolkit
$199.95 monthly
FAQs about SEMrush Plans
Can I Get a Free Trial for Both a SEMrush Pro and Guru Plan?
Do I Need to Provide Credit Card Details to Access My Free SEMrush Trial?
Can I Cancel My SEMrush Trial Without Being Charged?
Can I Still Use SEMrush After Cancelling a Free Trial?
Can I Get a Free Trial for Both a SEMrush Pro and Guru Plan?
It is strictly limited to one free trial per user, which is why you should carefully consider the plan that best suits your needs.
To recap:
Do I Need to Provide Credit Card Details to Access My Free SEMrush Trial?
Yes, to activate your trial plan with SEMrush, you will need to provide your credit card details when you register.
Can I Cancel Without Being Charged?
Yes, if you want to cancel the account before it is charged, you will need to submit a cancellation request to SEMrush before the period ends.
You have two ways of doing this:
Submit your cancellation request to mail@semrush.com
Log in to SEMrush, go to the 'Subscription Info' page on your dashboard and follow the 'Contact Us' link, which will take you to the cancellation submission page.
Can I Still Use SEMrush After Cancelling a Free Trial?
Yes, if you cancel your trial plan, your account will be turned into a free SEMrush account.
Keep in mind that the free SEMrush account has severe limitations on what you can access.
You will not be able to use all the same tools and features you used during your free Pro trial or free Guru trial plan.
Why Use SEMrush?
SEMrush is a powerful all-in-one online marketing toolkit that is as popular with SEOs and digital marketing professionals, as it is with agencies, SMBs and global organizations.
Why?
It's a SaaS product that helps SEOs, marketers and business owners successfully build and grow their online presence.
Extensive Analysis of Competitors Keywords
Generates Keyword Ideas Quickly
Analyse Your Backlink Profile (and Your Competitors Too)
Easily Optimize Your Google Ads Campaign
Incredible Automated Site Audit Tool
The tool excels as:
A comprehensive keyword research tool – to date, it has a whopping 20 billion keywords indexed in its keyword database
Tracking your domain's performance in the search results
Conducting extensive competitor analysis
Optimizing Google Ad campaigns.
And it's constantly adapting and expanding its toolkits.
It's no wonder that over 6 million people worldwide use SEMrush for their SEO and digital marketing efforts.
Let's take a closer look at the main features of SEMrush that absolutely make it worth your while to try out a free 7-day Pro trial or a free 14-day Guru trial.
Extensive Analysis of Competitors Keywords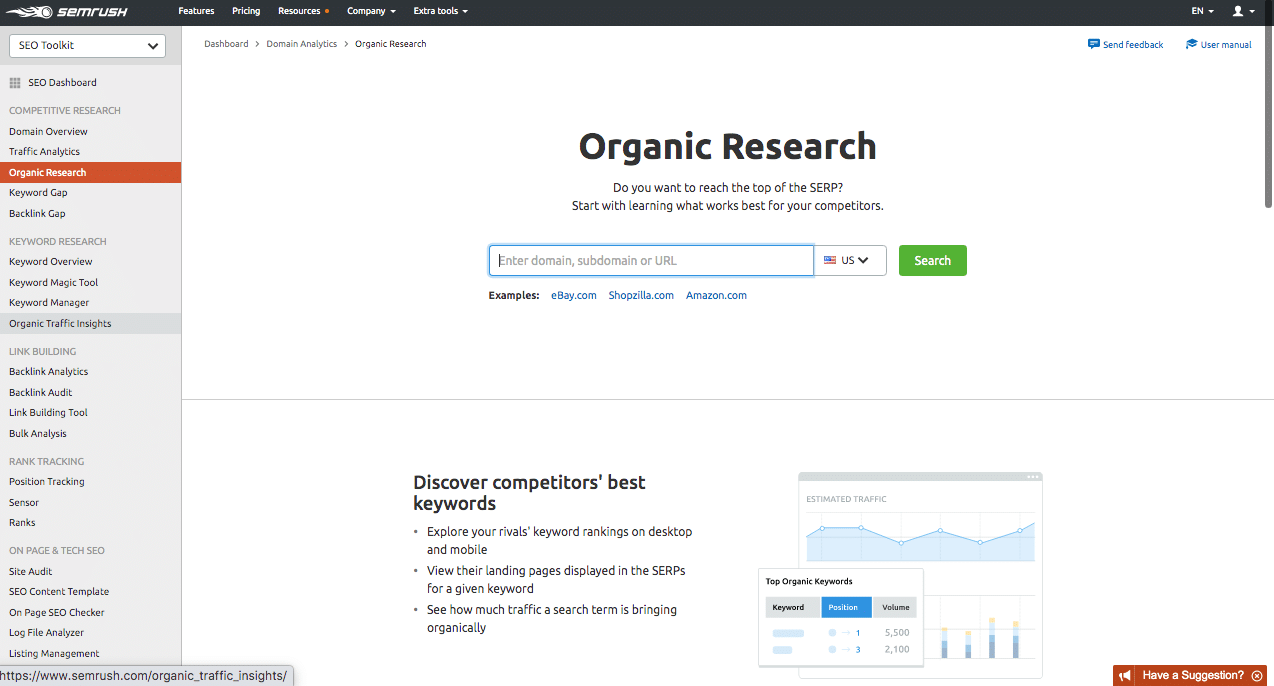 If you are an SEO consultant or a digital marketing professional, you know a thing or two about just how important competitor research is, especially when it comes to keywords. It can also be pretty time-consuming to complete without an SEO tool.
But SEMrush's Organic Research Tool makes this easy.
By gaining a better understanding of your competitor's keyword ranking and organic content marketing strategies, you can use this information to outperform them.
And SEMrush provides you all these details at once.
You can find the Organic Research tool tab on the left side of the toolkit under 'Competitor Research' :
Some of the amazing things you can do with this tool include being able to uncover the best-performing keywords for your competitors on both mobile and desktop.
In the following example, I typed amazon.com into the search box. Below are just some of the many insights I discovered – with just one click.
1. You can see which keywords are gaining the most organic search traffic, view keyword position changes, and analyse keyword trends:


2. You can also find new organic competitors: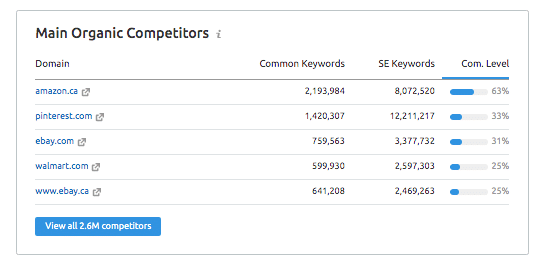 3. See which SERP features your competitors are ranking for with particular keywords:

4. View the top-performing landing pages:

And these are only some of the features of this powerful tool!
Generates Keyword Ideas Quickly
One of the key advantages of using SEMrush is its fantastic ability to uncover new keywords to use in just a matter of seconds.
And in a number of ways too.
Using the 'Keyword Overview' tool under the Keyword Research tab, you can assess any given keyword for a number of variables, giving you valuable insights for your keyword strategy.
For instance, in the following example, I chose 'shoes' as my keyword. Instantly, I received the following data.
1. Keyword search volume (national and global), as well as keyword ranking difficulty, SERP features and keyword trends. You can also compare these against desktop and mobile:


2. You can also find a staggering number of  keyword variations: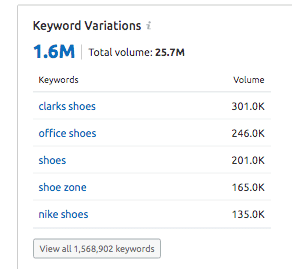 3. As well as many related keyword questions (valuable for long-tail keyword variations!)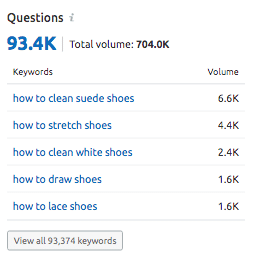 4. And related keywords too.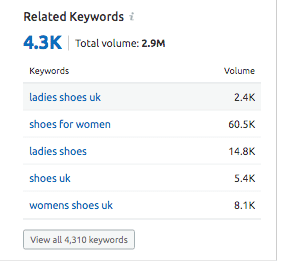 Another excellent feature within the Keyword Overview tab is the Keyword Magic tool, helping you to find hundreds of long-tail and secondary keywords, all by choosing just one seed keyword.
Analyse Your Backlink Profile (and Your Competitors Too)
Having a strong backlink profile is an essential part of SEO, as it can help improve your site's prominence in the search results, due to remaining a ranking factor for Google's organic ranking algorithm.
Both SEMrush's Pro and Guru plans help you easily identify and analyze backlink opportunities.
The Link Building tool helps you swiftly identify link building opportunities for your site, based on your chosen keywords and your competitors.
You can add both of these during setup (seen below):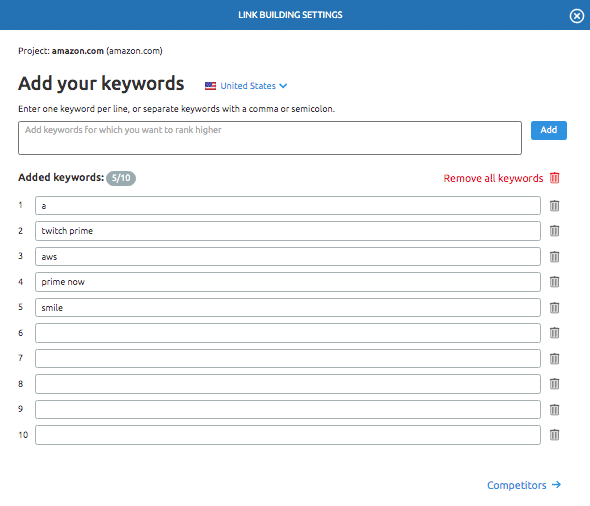 Whilst the powerful Backlink Gap tool enables you to compare multiple competitors backlinks, checking the backlink profiles of up to five websites at once.
This handy little feature means that you can develop an effective outreach strategy through seeing the backlinks your competitors have that you do not.
Pretty great right?
You can find the Backlink Gap tool under the 'Competitive Research' tab: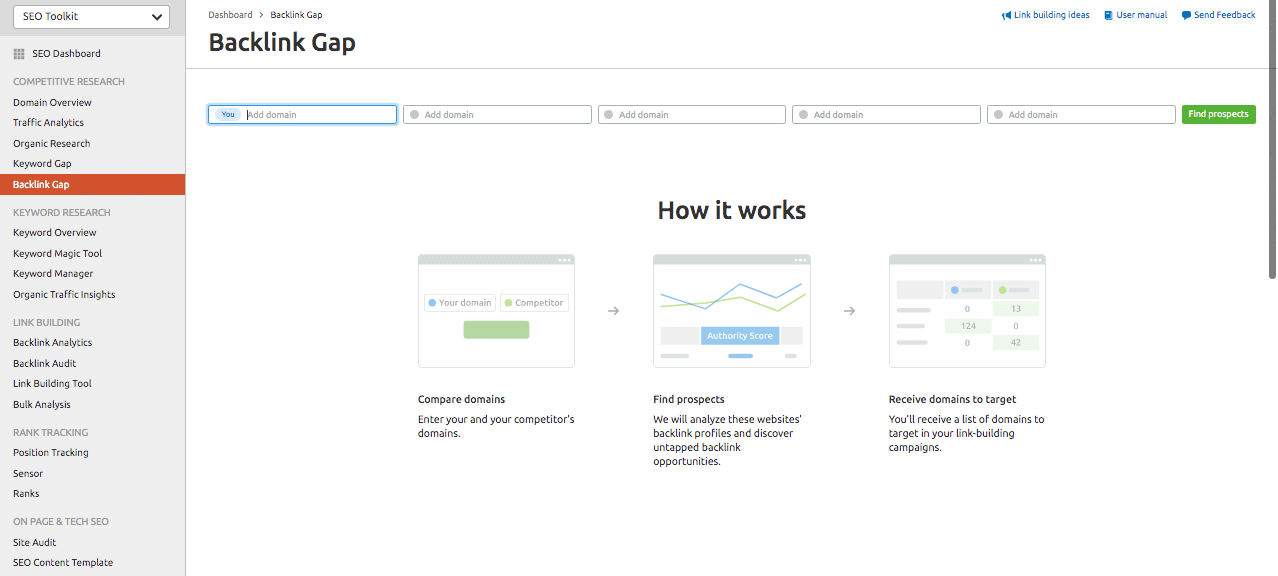 But that is not all. SEMrush also has the Backlink Audit tool, which filters out for you any potentially toxic or harmful backlinks that are connected to your website.
These are incredibly important to identify, as toxic links can lead to a Google penalty if you're not careful – and this can have a huge impact on your rankings.
You can find the Backlink Audit tool under the 'Link Building' tab: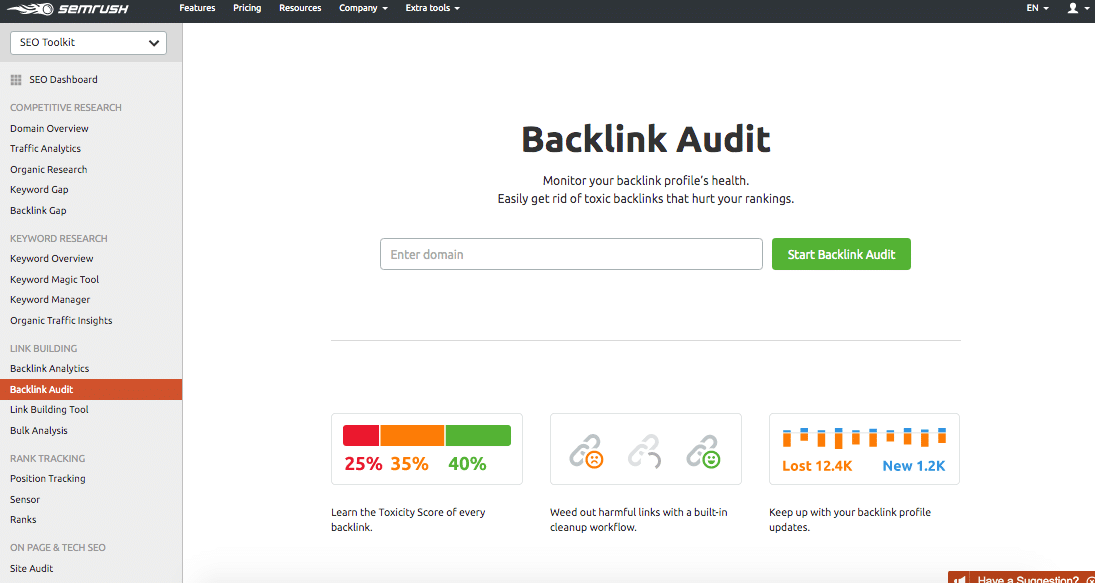 If any harmful links are identified by the Backlink Audit tool, it enables you to add them to a disavow list, which can be then sent directly to Google in order to remove your site's association with them.
Easily Optimize Your Google Ads Campaign
SEMrush's PPC Keyword Tool makes Google Ads optimization a breeze, as it makes it incredibly easy for users to remain organized and on budget.
Lack of organization, and failing to keep to ad budgets are common mistakes made by PPC marketers. It's usually due to one of the following reasons:
Being too broad in keyword targeting efforts
Bidding for highly competitive keywords
Not adding negative keywords to a campaign
But the PPC Keyword Tool takes care of all this. You can:
Speedily set up negative keywords (through the cross-group negative keyword generator)
Organize keywords at both campaign and ad group levels
Identify keyword search volume and Cost Per Click data down to city level
Easily upload campaign files to Google Ads Editor
Want to try it out? You can find the PPC Keyword Tool in the Advertising toolkit, which is in the drop-down section in the left-hand corner of the dashboard: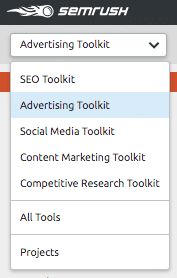 Then under the 'Keyword Research' tab, select the PPC Keyword Tool to get started!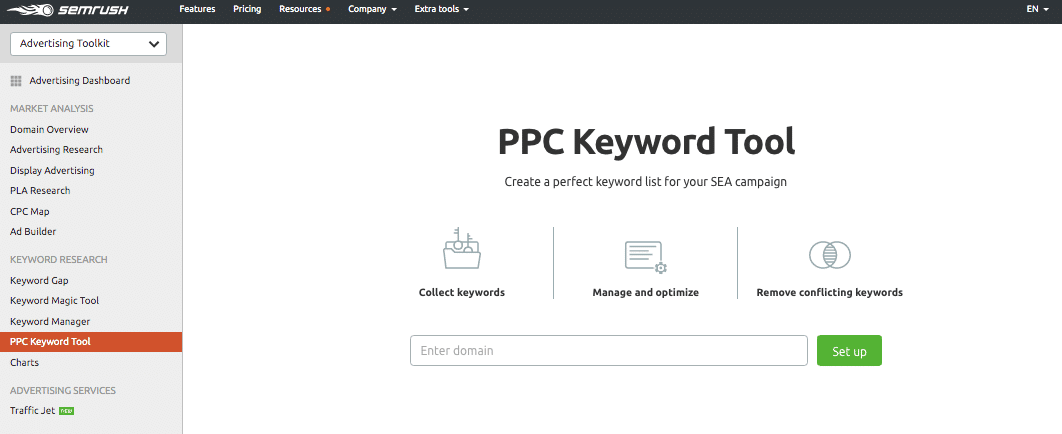 Incredible Automated Site Audit Tool
Technical SEO is just as important as on-page SEO – and the SEMrush Site Audit Tool helps you with all your off-page SEO needs.
It identifies any serious errors that could be impacting your ability to rank or any issues before they become a huge problem for your site.
The Site Audit analysis includes:
Site performance – a major ranking factor
Content issues that need to be addressed
Identification of any internal link building issues
HTTPS implementation – checking your site's security status
Crawlability – ensuring your most important pages are being properly indexed
The best part about it? The tool runs these audits on your behalf automatically.
You can see the site audit report on your SEMrush dashboard whenever you log in.
No need to worry about remembering to run an audit several times a year – SEMrush takes care of all that for you.
The Site Audit tool can be found under the Advertising toolkit, seen below: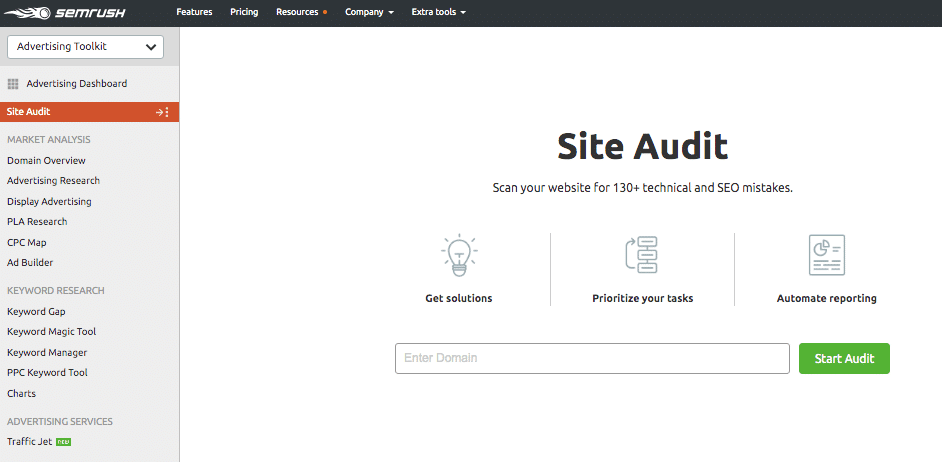 Get Your Trial Today
As you can see, the SEO, PPC and digital marketing opportunities with SEMrush are truly endless, and that's why it's the trusted online toolkit of millions of SEO and digital marketing professionals worldwide.
With powerful capabilities for both on-page and off-page SEO, as well as PPC and social media, it's why we are excited to share our SEMrush experience with you through our free trial offers.
Check out the 7-day free Pro trial plan, or our exclusive 14-day free Guru trial plan today, and see what you think.
---
Traffic Checker FAQ
Does Semrush offer a free trial?
Yes, SEMrush offers two free trials – 7 Day and 14 Day trial. This trial so for new customers only.
Which is best free SEO tool?
The best free SEO tool depends on what data you are looking for. For on page SEO we at traffic masters love the Detailed SEO Extension and have used it for years. For off-page SEO we would recommend taking a free trial of SEMrush.
How much is Semrush per month?
Semrush starts at $119.95 per month for their PRO plan, their most expensive is the Business plan at $499.95.
Which SEO tool is best?
There is no best SEO tool, they all do a similar job of collecting data on your own websites and competitors. We highly advice webmasters and marketers to try all tools to find what works best for you.
Which is better Ahrefs vs Semrush?
Ahrefs has superior backlink data but semrush takes the win when it comes to organic search data and paid advertisement data. Both tools are a must have for anyone who works in SEO seriously.
What is Semrush used for?
SEMrush is used to collect data such as organic keywords, traffic volume, backlink data and paid advertising campaign information on your competitors.
Is Ahref free?
No, Ahrefs is not free and does not offer any free trial. Prices for Ahrefs start at $99 per month for their Lite plan and go up to $999 for their Enterprise plan.
Can you cancel Semrush free trial?
Yes, you can cancel your semrush free trial from within your account page. If you cancel before the trial ends you will not be charged.
How do I remove card details from SEMrush?
You can remove your card details from semrush by visiting your account page, and clicking on Subscription info.
How do I downgrade my SEMrush account?
You can downgrade your semrush account from the summary tab inside your account page. Click Account, Subscription Info, Summary.
How can I use SEMrush?
We would recommend reading the many SEMrush guides to learn how to best get the most out of their SEO tools. You can also watch youtube videos to learn how to use semrush.
How do I cancel my Ubersuggest subscription?
You can cancel your ubersuggest subscription by visiting your account page.
What is Semrush tool?
Semrush tool is used to view data on your website and competitors. They crawl the internet and scrape all data available then present it to you in an easy to read manner.
How can I use Semrush Pro for free?
Yes, SEMrush have a free PRO trial for first time customers. You can get it here.
How do I get a free Semrush subscription?
You can get a free semrush subscription by clicking on the 7 day or 14 day plans.
Is keyword surfing free?
Keyword surfer is a free plugin for chrome and brave web browsers. It has limited data due to it being free.
How many users can use Semrush?
Semrush can support multiple users but you need to pay extra for this. Prices depend on your current plan.
Is Semrush worth the money?
Yes, if you wish to increase your organic traffic then SEMrush is worth the money. Any SEO or internet marketer who wishes to succeed online will have a semrush account.
Is Semrush good for SEO?
Semrush can help you improve your SEO by providing your with data such as keywords you can target, competitors that rank better and let you know if you have any SEO errors on your page.
Why Semrush is the best SEO tool?
Semrush is one of the biggest seo tools available. Many marketers believe it to be the best tool available for SEO but we strongly suggest trying all tools available.
What does Semrush stand for?
Semrush is stands for Search Engine Management Rush. It was originally developed as a simple extension for firefox named SEOdigger then rebranded to SeoQuake before finally becoming SEMrush (now rebranded as Semrush).