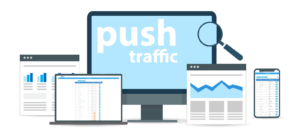 Traffic Generator
Create Your Own Campaigns
Access Our Website Traffic Generator
Traffic Generator Reviews
Only logged in customers who have purchased this product may leave a review.




How To Use Our Website Traffic Generator
Place Your Order
Enter your website address, targeting options such as demographic and geo location then your desired run for time.
Campaign Creation
Click on the create campaign button found inside your dashboard. Enter your URL and targeting choices. You can further edit your campaign later.
Track Visits
Campaigns can be further edited after creation. Pause or resume your visitors at anytime. URLS cannot be changed.
The Best Traffic Generator
Our self-serve platform is designed to be the best traffic generator available online. It's easy to use, responsive, efficient and will keep your clients happy.
Our service is perfect for marketing agencies or individuals who require full control over delivering reliable traffic to their clients sites.
Purchase traffic credit plans as needed.
Create Your Own Campaigns – Our self-serve generator platform puts you in control
Set & Forget – Set up monthly subscriptions and have a steady flow of visitors 365 days of the year
Advanced Targeting – We have access to almost every country, state and city available.
In-House Reporting – Easily track and share visitor data with clients
Visit our documentation center or reach out to one of our advertising support team members for further information.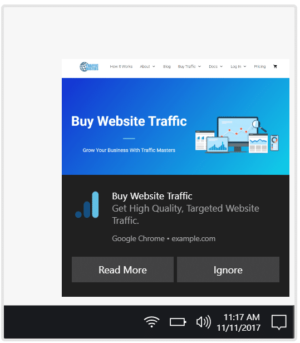 Common Questions
How Can I Use Your Website Traffic Generator?
Using the order form found at the top of this page, select a traffic plan, device target, visitor location and demographic. Enter your website address and click order! We accept payments via PayPal, Credit Card & Bitcoin.
See Traffic Generator Explained
---
How Long Does It Take to Generate Visitors?
After ordering you will be given access to your own self-serve dashboard. This dashboard lets you set up campaigns using the traffic credits purchased. Traffic credits will be applied to your account once your payment has been processed. Campaign approval is near instant thanks to our smart AI.
---
What Will My AD Look Like?
We use a number of different ways to promote your website to visitors on our network.
---
What Is Push Traffic?
Push visitors are new and becoming more and more popular as mobile devices have taken over desktop traffic. Push visitors are visits from desktop and mobile devices that have "allowed" a website or app permission to notify them of updates. We push your website straight to their mobile, laptop or tablet. When you order credits for our traffic generator you will be sending push visits to you or your clients website.
---
How Can I Track Your Traffic?
Please make sure you have Google Analytics installed as it's the only platform we will guarantee our push traffic registering with. Plans created with no GA installed will not be entitled to a refund.
---
How Do I Select A Demographic?
After purchasing a traffic plan you will asked to enter your location targeting during campaign creation. We can target almost every country, state and city in the world. Our platform uses smart AI to automatically select the best demographic from a database of over 800 different options. This makes running campaigns on our network extremely easy.
---
What is website traffic generator?
A website traffic generator is a platform or software that can send visitors to your website or app that can be tracked by third party tracking applications such as Google Analytics
---
Do traffic generators work?
Yes traffic generators work by sending a set amount of visitors to any website by using huge data centers to drive traffic
---
What is lead traffic?
Lead traffic is traffic that converts into leads. This could be visitors signing up to your newsletter, your mailing list or purchasing a product such as an online course.
---
What is the meaning of traffic generation?
traffic generation means sending visitors to your website or app. You can generate traffic using SEO, Advertising our using a website traffic generator.
---
How can I generate website traffic?
Enter your website address and select how many visitors you want – our website traffic generator will create an account and email you the login details. Once logged in you just need to click on the create campaign button to start generating website traffic.
---
How do I increase page views?
You can increase page views by improving your on-page content. Interlink blog posts to improve your SEO and page views. For example, adding a sidebar with related blog posts could generate more traffic by driving up the click through rate of your site.
---
How do I increase page views in ecommerce?
We would recommend online advertising via buying website traffic and starting a blog to generate organic traffic for free.
---
How do I increase views on Wordpress?
The same way you would increase views on other platforms, via SEO or Advertising or using a free traffic generator.
---
How do I make my blog more visible on Google?
To improve your websites rank on Google you would need to work on your sites SEO. We have a great guide on SEO which covers all the topics needed to improve your sites visability on Google.
---
What is an evergreen topic?
An evergreen topic is a subject that is always being searched for, for example "How To Generate Free Website Traffic". This is a topic that is always being searched. Compare that to "Fancy Dress Costume" which is most likely only popular during halloween.
---
How do I get free website traffic?
Start by creating social media accounts on platforms such as facebook, twitter, instagram and tiktok. Post content related to your buisness daily, make it fun / interesting and include a link to your website. Over time you should start to see free website traffic.
---
How can I get traffic to my website 2022?
Search engine optimizaiton, online advertising and social media promotions. Many of our clients get more traffic simply by using our platform to promote their sites using our website traffic generator.
---
How can I get more traffic to my website for free in 2022?
Our website traffic generator can help you get more traffic, as can our advertising platform which will send visitors from social media platforms, desktops and mobile applications.
---
What is the best free traffic source?
the best source of free traffic is search engines and social media. Both of these take a great deal of work, you will need to focus on content creation, outreach to build links and building an audience on social media. Keep your followers engaged by posting content thats related to your website or business daily.
---
Where can I post links to get traffic?
Social media sites such as Reddit are a great way to drive traffic via posting links. Be careful not to come across as spammy – most moderaters will remove any link posted if they think you are trying to generate traffic instead of contributing to the subreddit. We have a great blog post about driving traffic without SEO here.
---
How can I get traffic to my website without social media?
Online advertising is the fastest way to generate traffic and get traffic to your site without social media, its fast and can be targeted. Another way would be SEO but this is a slow process, you might not see any visitors for weeks.
---
What Is Your Refund Policy?
We can fully refund any campaign that has yet to go live. Campaigns & plans that have started cannot be refunded. If this is an issue for you then we recommend not ordering from our platform.
---