Today we are reviewing free traffic checker services.
Ever wondered just how well your competitors site is doing? Are they getting more visitors than you?
Are they targeting different people than you? Where are these visitors coming from? Organic, social or do they buy website traffic?
Unless your competitor has an "advertising" page that displays their monthly impressions we are going to have to rely on a good old website traffic checker.
Luckily there are a few that do this pretty well and best of all for free.
If used correctly these traffic checker services can help you get free website traffic by finding out where your competitors strong and weak points are.
So let's look at how to check website traffic free using a traffic checker.
SEMrush 
SEMrush Traffic Analytics is the latest released tool within their SEO program section. You can either analyse your website or even compare the source with your competitors. It shows the traffic volume & sources of your competitors or potential partners:


Check Website Visitors By Subdomain
Find out the most traffic-acquiring subdomains of analyzed sites


Top Landing Pages
check and reveal the most popular landing pages of your website or a competitors easily.


Traffic By Device
Here you can also evaluate desktop mobile traffic split and compare visitors' engagement by device type, very useful stuff for understanding your audience.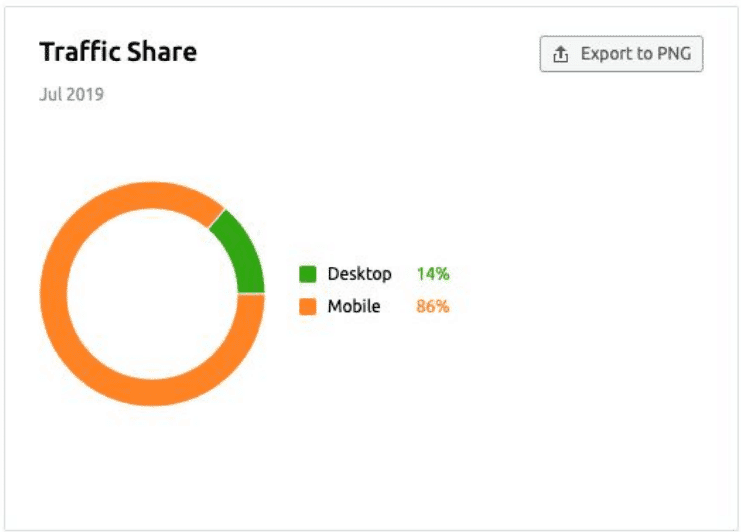 Traffic By Countries
Here you can easily identify how your competitor performs in different regions and then discover which ones you need to target to be successful.


Visitor Behavior
It helps to understand visitor's behavior: visits, unique visitors, pages/visit, avg visit duration, bounce rate and even observe where users go after visiting the domain. This feature really sets SEMrush apart from the competition.


SEMrush Verdict
Easily our favorite traffic checker platform, SEMrush can really help you understand everything needed to dominate your niche. Their organic traffic and keyword data is fantastic making it one of the best traffic checker services available.
On top of that SEMrush will also let you run an audit on your website to check for any on-page errors that are holding you back.
You can also compare your content to your competitors and get a nice list of keywords you may be missing.
SEMrush is paid service but we have a great 7 day free trial for our readers that will let you check the domain traffic of your competitors without paying a penny! Click the link below to get started.
Click the link below to get started.
Get Your 7 Day PRO+Competitive Intelligence Add-on FREE Trial
Cancel At Any Time!
Not for you? Read our top SEMrush Alternatives
---
Serpstat 

Serpstat is a free to use all in one marketing platform and traffic checker that lets you get a detailed breakdown of both competitors and your own website.
Domain Analysis – Overview


Here we get a nice overview of the domain entered. The total visibility (The higher visibility of a domain is, the higher number of visitors it's likely to receive). The monthly search engine traffic, The number of organic keywords the domain ranks for in the top 100 and finally any paid traffic campaigns the website is running.
Organic Keywords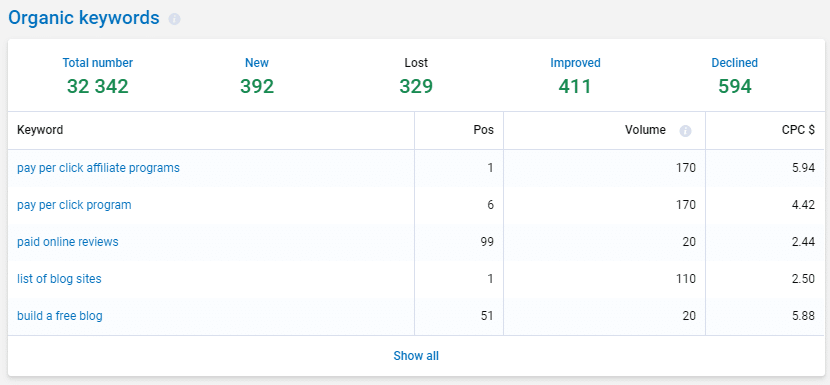 Serpstat gives us a nice little overview of total organic keywords, with the position, volume and cost per click – these numbers are lower than what's reported in Google in terms of volume. Clicking on show all will give a more detailed look at these keywords.
Organic Keyword Positions

Here we have a nice little breakdown of the keywords, the serp features, difficulty, position, volume, traffic, cost per click, competition, results and the ranking page. Free plans on Serpstat are limited to 10 results which is pretty generous.
Keyword Position Distribution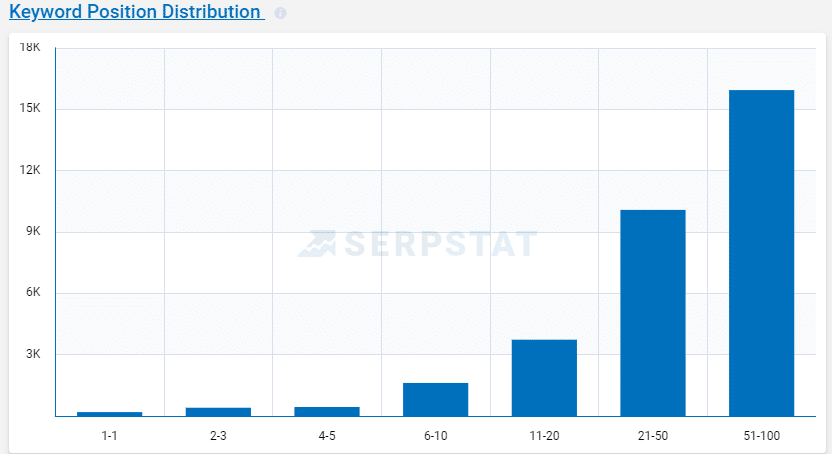 A nice clean chart showing where the websites keywords rank in Google. A large amount are not found in the top 10 which could be an indication that the site needs to update its blog content to attract some fresh clicks from Google.
Traffic Trend For The Year

Serpstat show that this website has been hovering at around 50,000 visitors per month until the start of December when it skyrocketed to over 300,000 visitors.
Digging into their back link profile and content for OCT / NOV might unearth some answers to this.
Keyword Trend For The Year

This graphic displays the amount of keywords in google that have been picked up every month by Serpstat.
Notice at the end of November there was a small jump which correlates with the huge traffic trend above.
My guess would be that their increase in visitors was related to the November 8th Google Algorithm update.
Top Pages

A nice breakdown of the top 10 pages and the amount of keywords in Googles top 50 results.
Competitors In Organic Search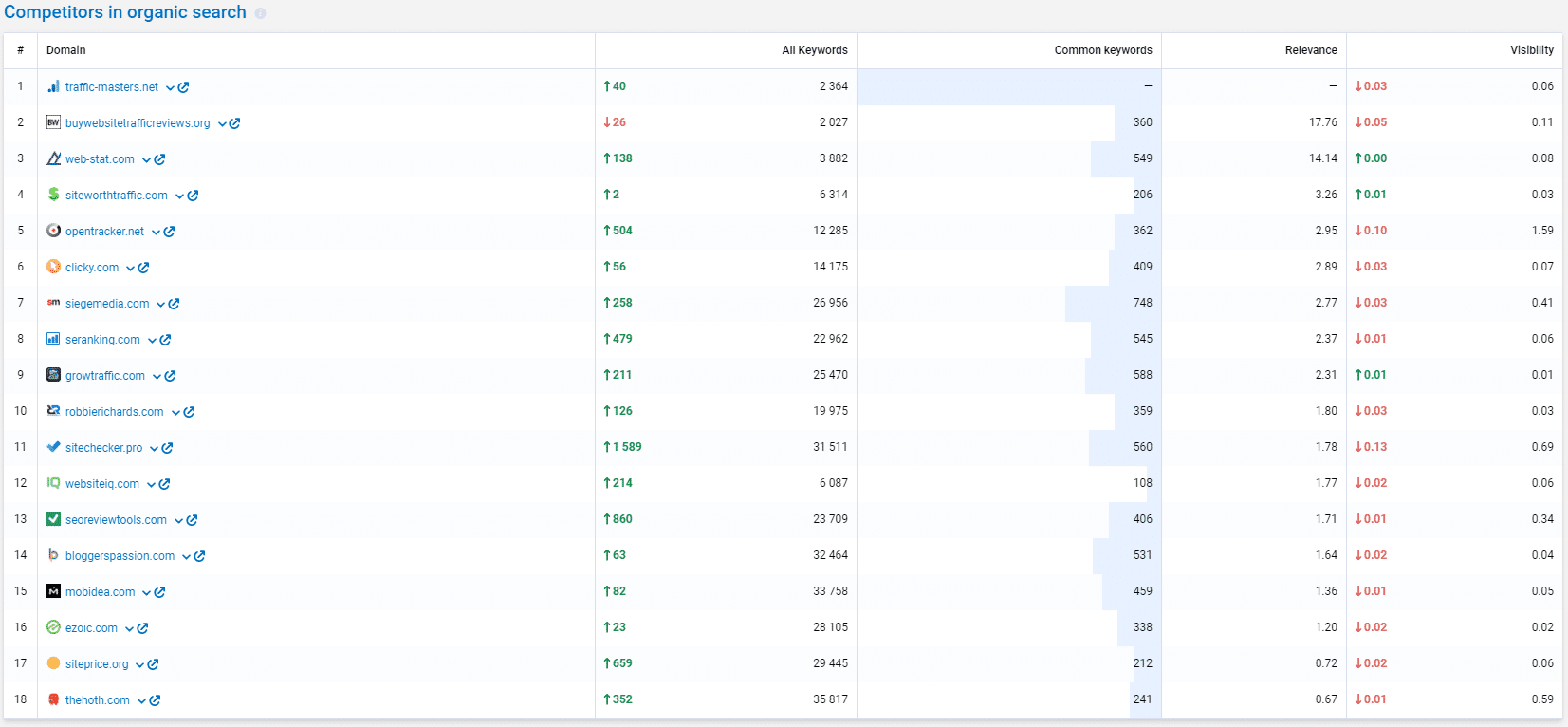 Serpstat has a nice breakdown of your competitors with information on common keywords that you both rank for and how your visibility has changed.
Competitors Graph

For those who prefer visuals, here we can see your competitors in a nice graphic.
The larger the dot the more keywords they rank for and the closer the dots are the more each site has in common.
Serpstat Verdict
Serpstat have a great platform with tons of data. We loved how easy everything was to understand and unlike a lot of platforms their traffic checker data is very generous for being free. Their UX is clean and easy to navigate so perfect for those just starting out in marketing.
Prices start from $69 which will unlock more data and let you access the full search analytics, position tracking, & backlink analysis. Considerably cheaper than other platforms.
Unveil your competitors marketing secrets for free!
---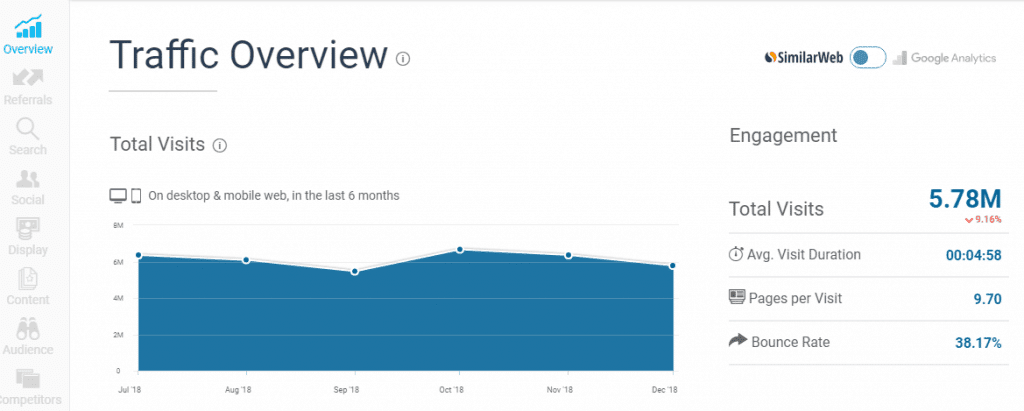 Similar web helps you get detailed data from different sites and gives you a comprehensive overview of how a website is ranked. From this, you get to see how the website is ranked globally, countrywide and according to its category.
Similar Web breaks down the data into easily digestible chunks which makes the whole process fast. They also offer a tier paid membership starting from $199 per month to $799.
Referrals
An easy to read diagram of the top referring sites, also included is the top sites that leave similar web.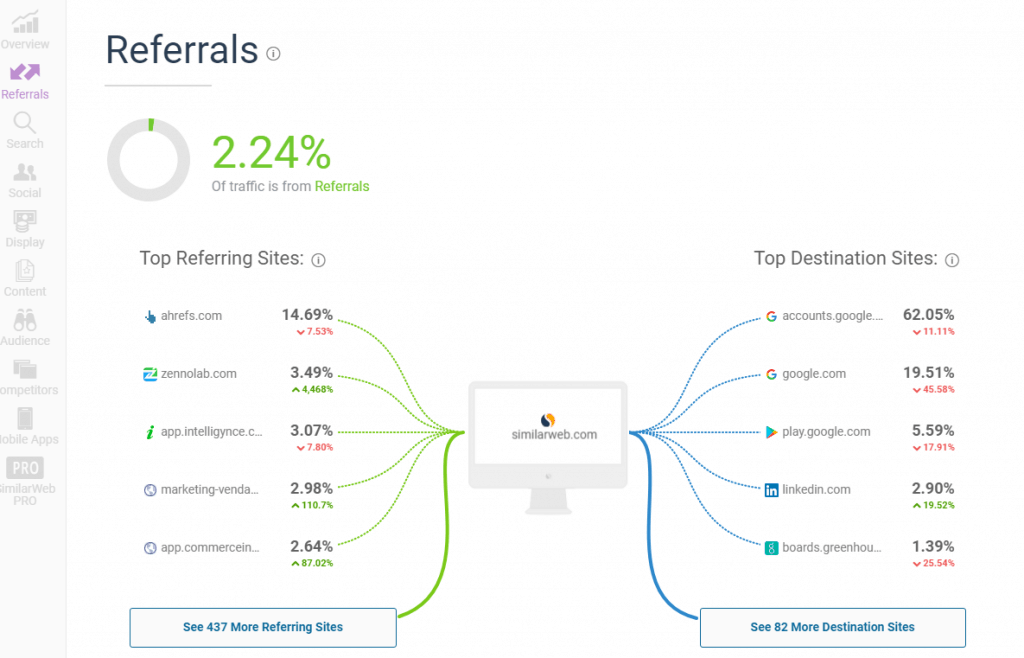 Search Traffic
Probably the most important section for many and for those looking for a traffic checker platform. Those keywords your competitor is targeting, the organic traffic and PPC visits.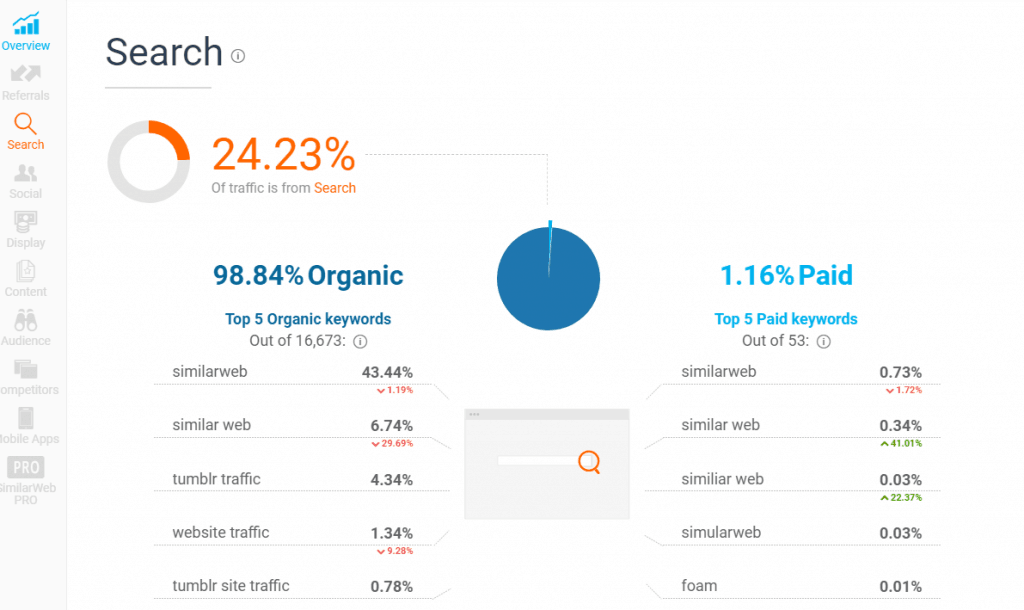 Display Advertising
If your competitor is running display advertising "banner ads" you can find the data here.



Content
Here we can see which sub-domain, folder and even page is the most popular. Very useful!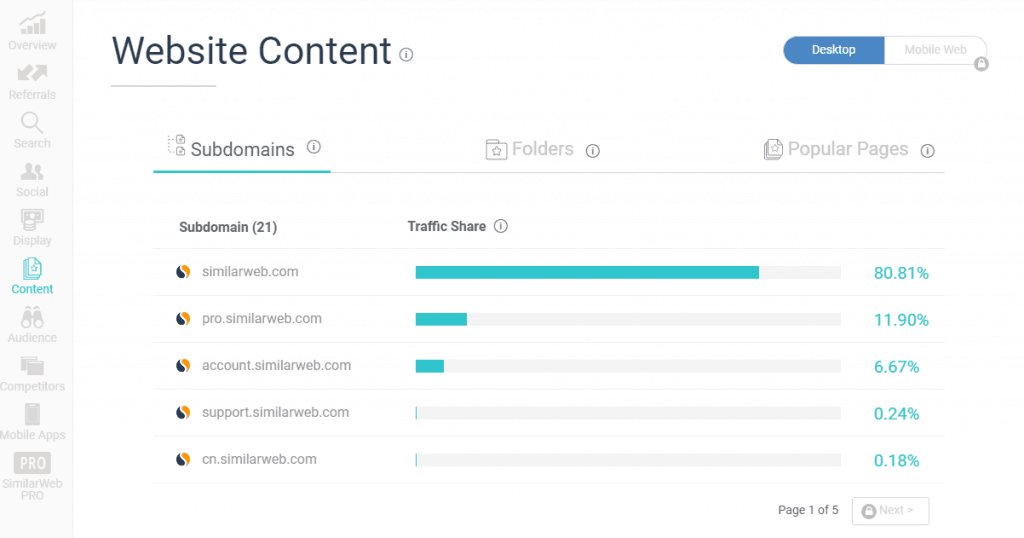 Audience
This data should match your own if its a direct competitor, pay attention to the tags and see if there's any your not targeting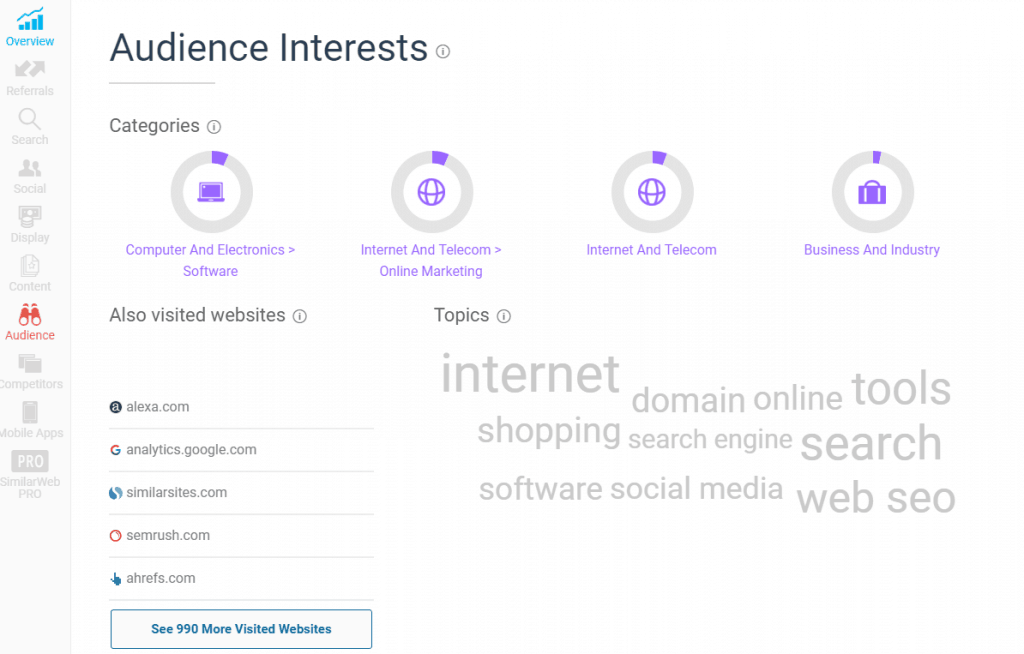 Competitors
It's always a good idea to know just who your competitors are, similar web makes this an easy process.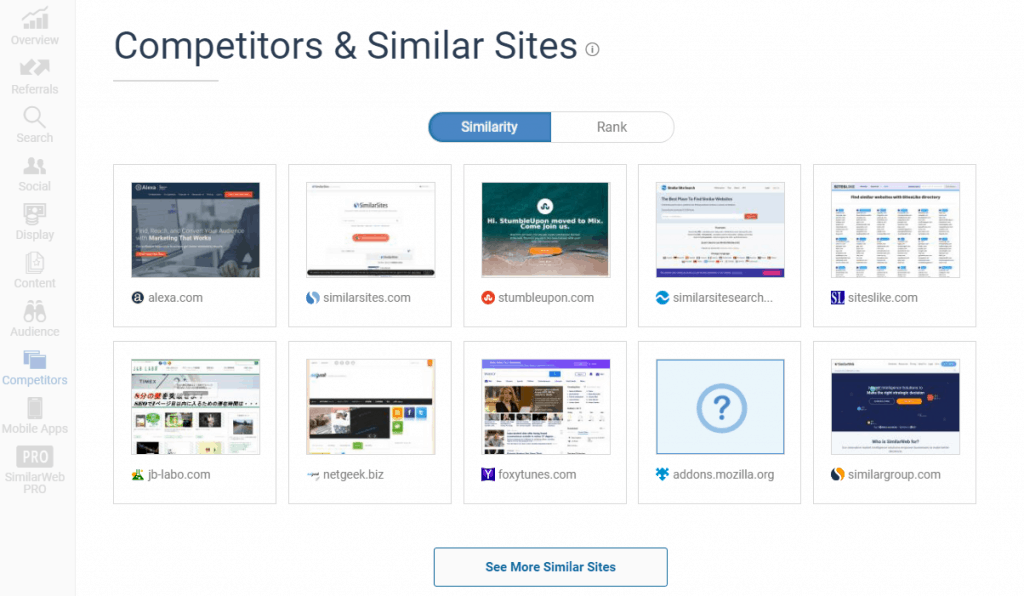 Mobile Apps
If the website has a mobile app it will show up here.



Similarweb Verdict
Similar web provides a lot of useful data that you can actually use straight away to asses your website and competitors. Becoming a PRO member will unlock even more useful data and allow you to check multiple websites.
Unveil your competitors marketing secrets for free!
---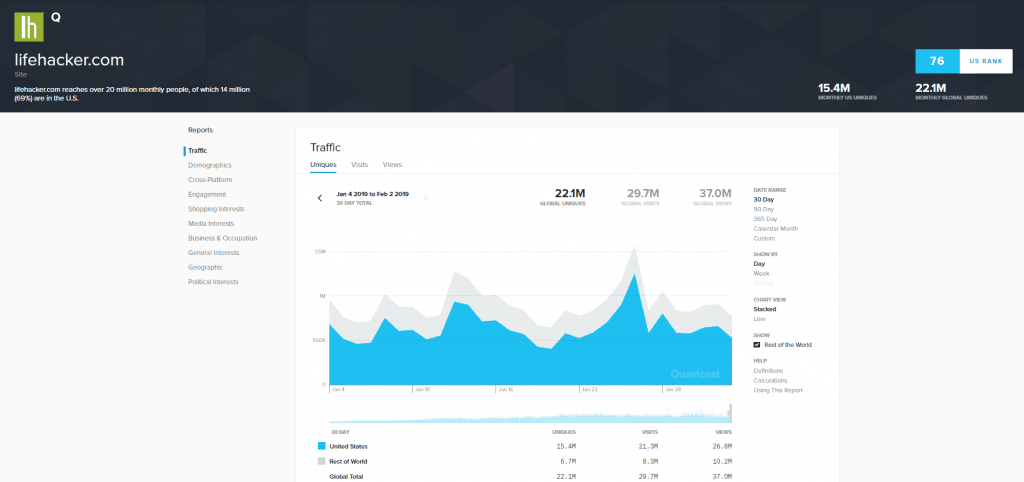 Quantcast breaks down each report into 10 different categories.
It has been named the most accurate website traffic estimator; its main aim is to provide the behavior of unique visitors on a website. The website is able to measure things like gender, how long and their frequency on certain pages as well as the visitors age.
One of the benefits you will get from this site is that you can track data in real time, this is an important tool as you can monitor changes that you might make on your site and see the impacts.
Quantcast requires that you sign up and place a tracking code on your own website to access its data. Well worth it in my opinion, especially for those who run advertising campaigns and need a better understanding of the type of visitors viewing the website you will be running ADS on.
Demographics
This data is invaluable when running ads on a website, here we can see that lifehacker is popular with young Asian dads who are educated and earn a nice income.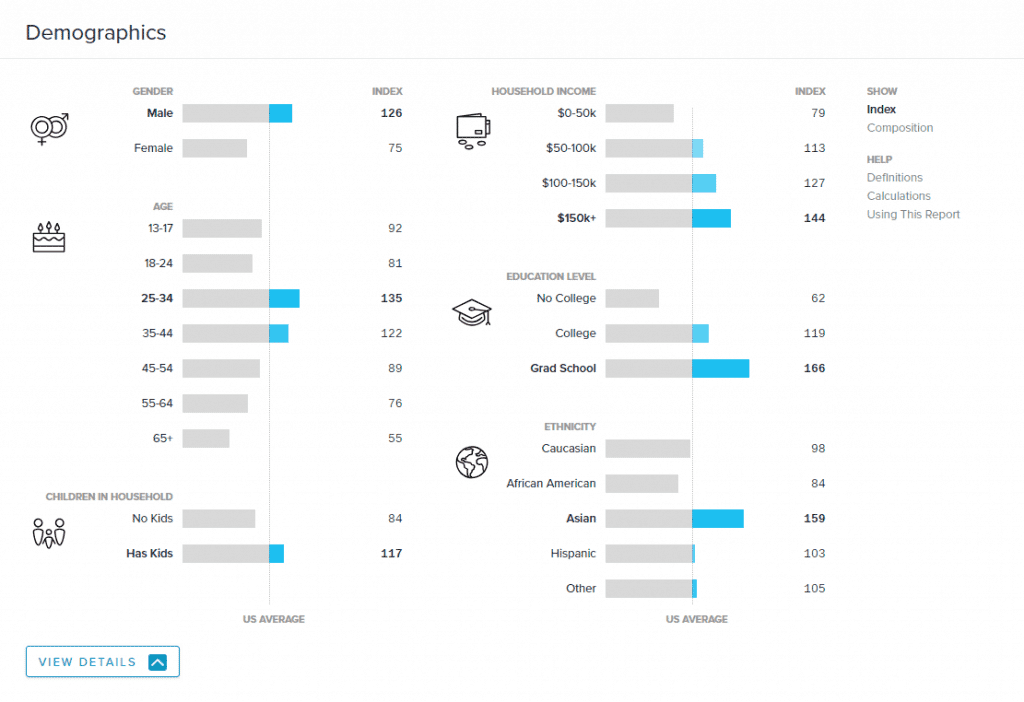 Cross-platform
Running desktop advertising on Lifehacker? You may want to consider mobile only as we can see over 75% of visitors are using their smart phone.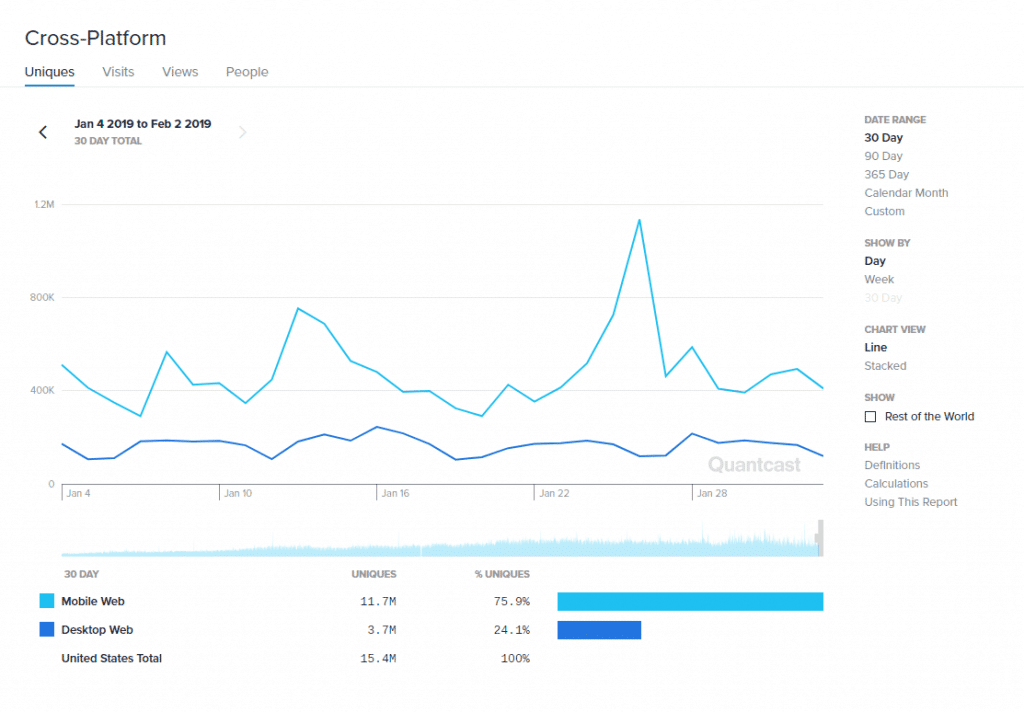 Engagement
Quantcast breaks down the data even further by showing us how engaged each visitor is.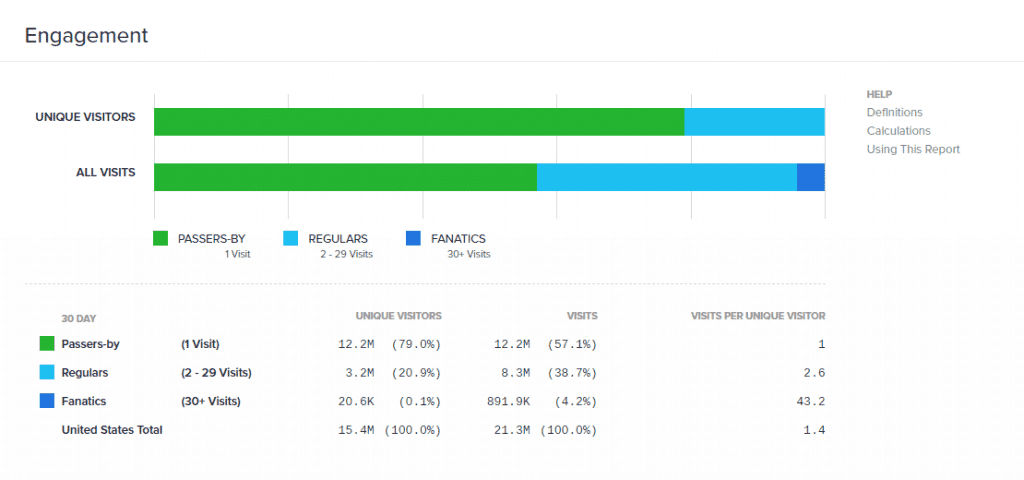 Shopping Interests
Here we can view the shopping habits of visitors of lifehacker, currently viewing the retail purchase affinity report.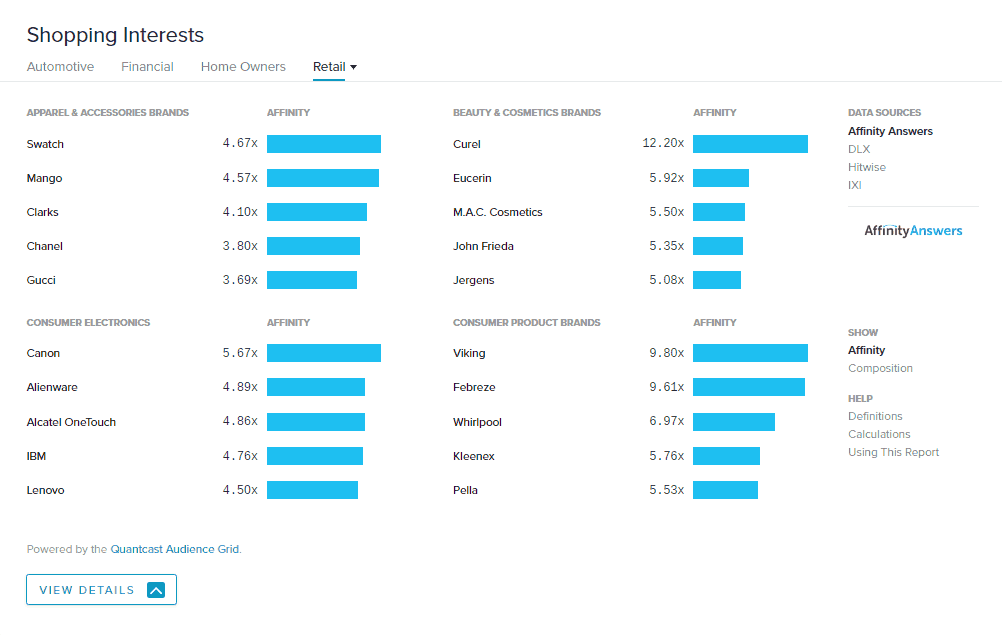 Media Interests
Media interest data can be broken down further by streaming devices, movies, music & entertainment.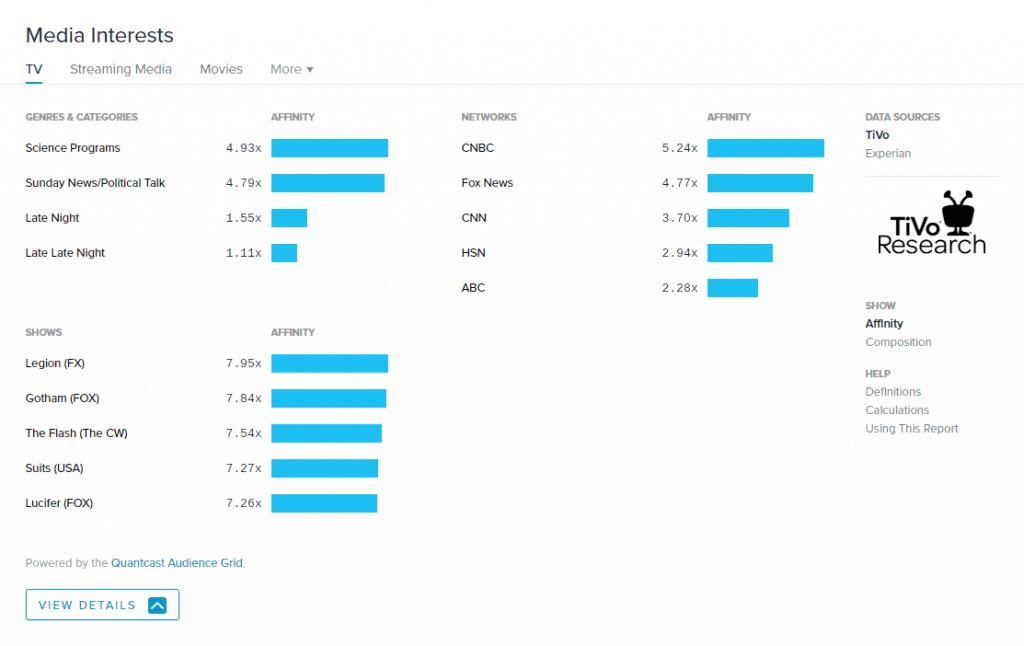 Business & Occupation
Find out which sector your visitors are working with, their revenue and industry.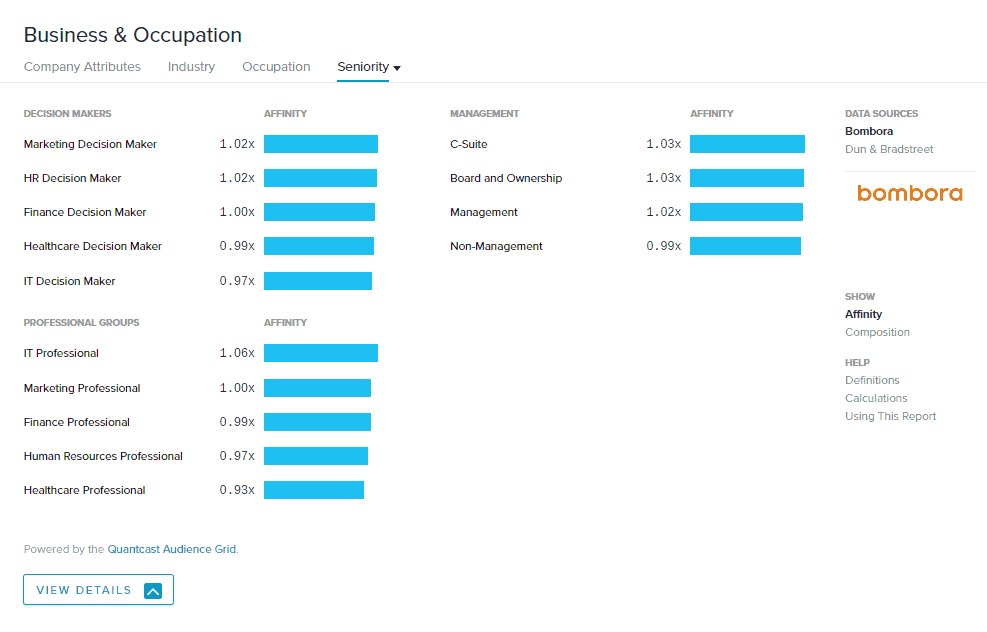 General Interests
One of my favorite reports on quantcast. Here I can find out what visitors like and which websites they have visited.



Geographic
Top countries visiting lifehacker, can break this data down further into cities.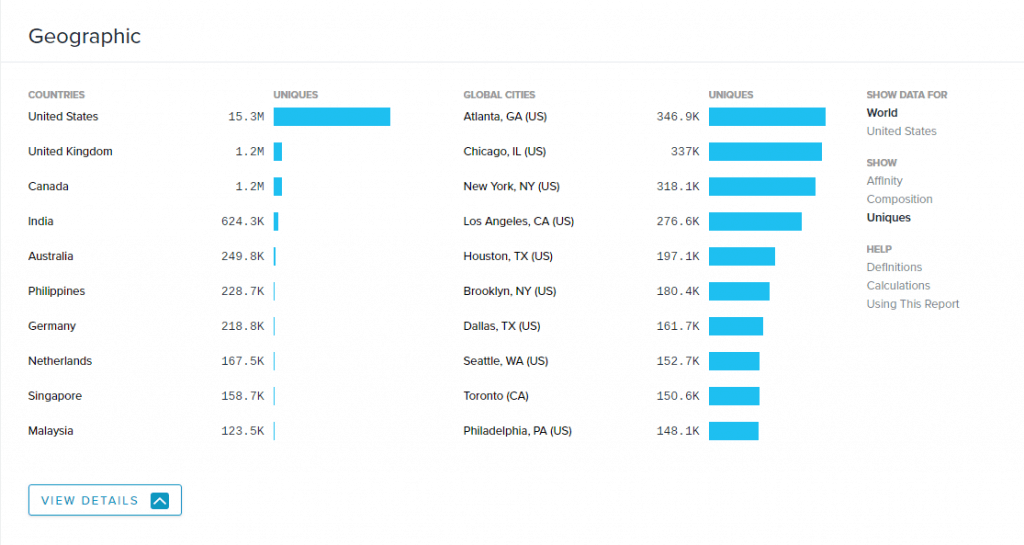 Political Interests
Self explanatory, this report breaks down any political interests visitors may have.



Quantcast Verdict
Quantcast is honestly a must have traffic checker tool for webmasters & advertisers looking to get an edge on the competition. Even if you don't have your own domain but run affiliate ads you should really have access to this if you want to convert those impressions. It does require that you sign up and have access to your own domain however.
Unveil your competitors marketing secrets for free!
---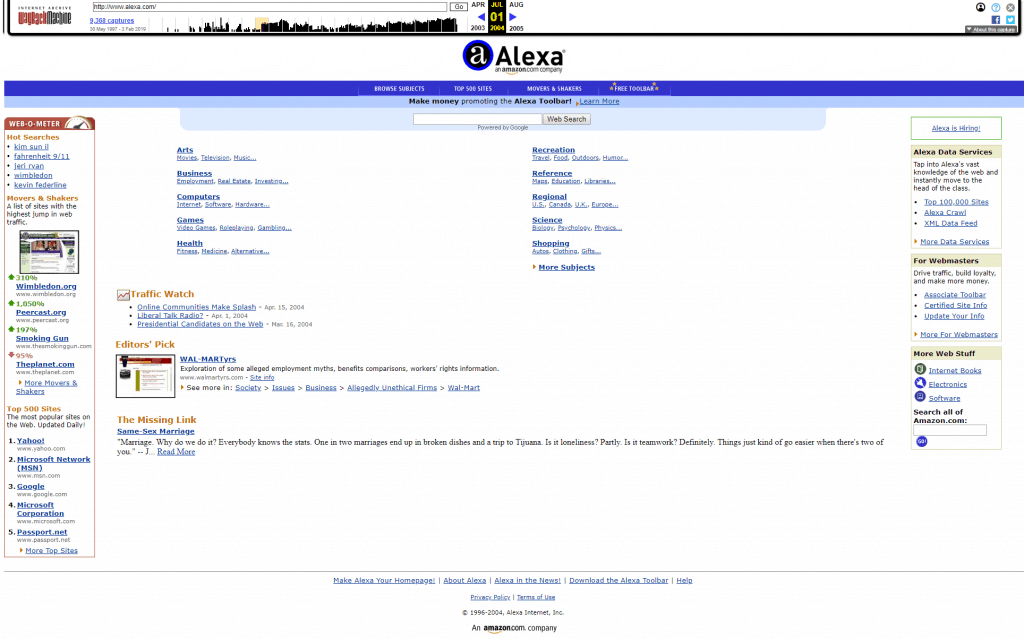 The oldest and first real traffic estimator tool, Alexa Internet has been around since 1996. Originally it was set up to help users find similar websites they may like via a toolbar installed on their web browser.
This toolbar allowed alexa the ability to crawl and archive millions of websites and visitor browsing habits (eventually leading to the creation of the internet archive).
Alexa has sadly been taken over in terms of features by sites offering more accurate data for free. Currently you can find out a websites audience geography, engagements, top keywords, bounce rate and backlinks. Paid membership grants you more access to data starting at $149.
Alexa Rank
Here we have a very basic look at the "alexa" rank over the past 12 months and the sites global and local rank.


Geography
The top 5 locations that visit lifehacker. If we compare it to the quantcast data we can see the top 4 locations are the same.


Engagement
Alexa keeps it simple with just three data points, bounce rate, page views per visitor and average time on site.


Search Traffic
I would take alexas search traffic data with a dump truck full of salt, we can see the top keywords are very generic and most likely incorrect.


Backlinks
Its free data so I guess we shouldn't complain, but the "top" 5 backlinks for lifehacker are rather lackluster.


Alexa Verdict
It was once a fantastic tool but has seen a huge decline in what it offers for free. Alexa pro starts at price $149, and in my opinion you could get a lot more relevant data from a platform such as SEMrush or Ahrefs.
Unveil your competitors marketing secrets for free!
---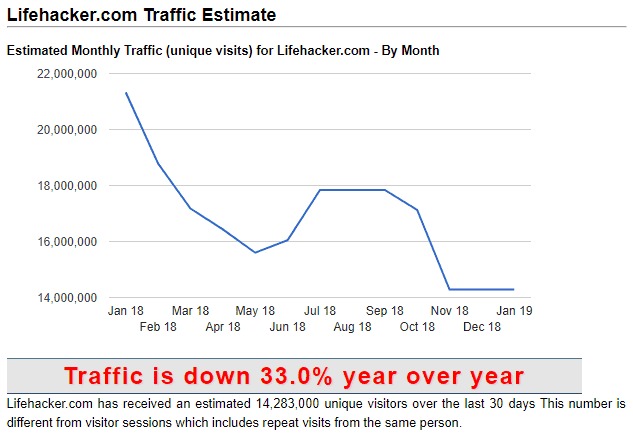 A simple website that gives out basic information on any website. It seems to grab data by combining other sources and spitting out the results. The traffic pulled for lifehacker seems to be on the low side and the top "keywords" seem to be random and unrelated.
Keywords



Traffic Estimator Verdict
It's free and only takes a few seconds to run a competitor analysis, the chance of finding any data the others haven't? slim
Unveil your competitors marketing secrets for free!
---
Final Thoughts on Free Traffic Checker Services & Common Questions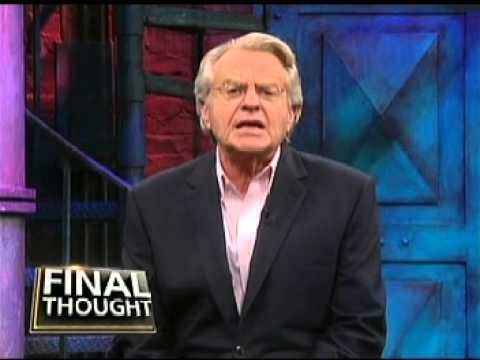 Before going into this I must admit I thought Alexa would still be on top but after seeing what similar web has to offer its clear they are the winner in terms of accessibility and data. Not only is the service free to access its also pretty accurate*.
Getting a rough estimate of another websites traffic in your niche can help you increase traffic and dominate, something every company should monitor.
It makes me wonder whats going on with Alexa internet? Being owned by amazon I thought they would be displaying much more data. They have access to amazon shoppers, fire, kindle and the hugely successful amazon echo owners data not to mention they are the backbone of a lot of internet sites with their cloud technology.
How Do I Check Traffic To A Website?
There are a few tools that will help you check traffic of your own website or a competitor, SEMrush, Google Search Console, Ahrefs & Similarweb are all great.
How Can I Check My Website Traffic For Free?
If you are looking to check website traffic for free then SEMrush have a 7 or 14 day free trial to check website traffic available to new customers.
Can I see Google Analytics for any website?
No, Google Analytics will only show you data for websites that you own and have the Google Analytics tag inserted into the header.
How many visitors does a website get?
This depends on how popular a website is, if they are ranking high on Google then they would get a lot of visitors.
How do you use Google Analytics?
Google Analytics requires you to install (copy and paste) their tracking code into the header of your website, this will let you view visitor data from within their dashboard.
Do you have to pay for Google Analytics?
No, you do not have to pay for Google Analytics. It is a free tool provided to you by Google, in return Google get access to all your visitor data to help them target Ads better.
What are traffic tools?
Traffic Tools let you view data of website visitors to better understand your audience. They will let you see things such as Top Keywords, Traffic Sources, Demographics and Locations.
How many visits to a website is good?
The more visitors you get to your website the better, some of the top websites in the world receive 100,000s visitors per day. A good way to check if your visitor amount is good is to compare your website to your competitor using a traffic tool.
How can I check my website traffic for free?
We would recommend using SEMrush as they are the only traffic checking tool that offer a free trial. Ahrefs will also let you check one website for free but the data is heavily limited.
What is average website traffic?
The average amount of website traffic a site receives per day. You can get this data from Google Analytics, Semrush or Ahrefs.
What is considered a small website?
A small website would be a site that receives less than 100 real visitors per day, if you compare this to a store running 24/7 it is a small amount.
What is a low traffic website?
A low traffic website is a site that does not get much traffic (people) visiting daily.
How many views do you need to make money on a website?
There is no set amount, it would depend on how targeted your traffic is and if your website converts well. The more views a website gets the better chance of it making money.
How Can I Monitor Website Traffic?
We at traffic masters use Google Analytics, Google Search Console and SEMrush to monitor our website traffic.
Can someone tell if I looked at their website?
If they have Google Analytics installed they could see your device and location but no other personal data about you.
How is traffic quality measured?
The quality of traffic can be measured by a few factors, how long do they stay on your site? how many pages do they visit? did they sign up? did they purchase something? did they add a product to their cart?
How Can I See the page views of a website?
With a tool like Ahrefs, Semrush or Google Analytics you could track all page views for any website.
How do i find out which visitors are clicking the most
Google Search Console can help you find which visitors are clicking the most to visit your website. Simply go to your GSC dashboard, Performance and sort by Clicks.
* Third party traffic checker sites can never be 100% accurate
Disclosure: This post may contain affiliate links, which means that if you click on one of the product links, I'll receive a small commission with no additional cost incurred to you.