SimilarWeb vs SEMrush – A Detailed Comparison
Sixty-eight percent of online experiences start with a search engine. More than 53 percent of all website traffic originates with Google search. And SEO drives 1000 percent more traffic than organic social media.
As you can see, effective digital marketing remains among your company's most crucial traffic drivers. Yet, without a full picture of what the stats on your company's website and landing pages look like, you're marketing team will be driving blind. 
That's why savvy organizations opt for a paid service to keep them up-to-date on the latest numbers when it comes to marketing insights. Two of the top choices? SimilarWeb and SEMRush. 
How do these two services compare, and which one's right for your company? Keep reading for the ultimate SimilarWeb versus SEMRush comparison. 
SimilarWeb and SEMRush are both popular tools for digital marketing analytics. Which is the more comprehensive and useful digital marketing intelligence tool? Let's start by introducing the competitors and then do a deep-dive into how each one works and what they offer.
SimilarWeb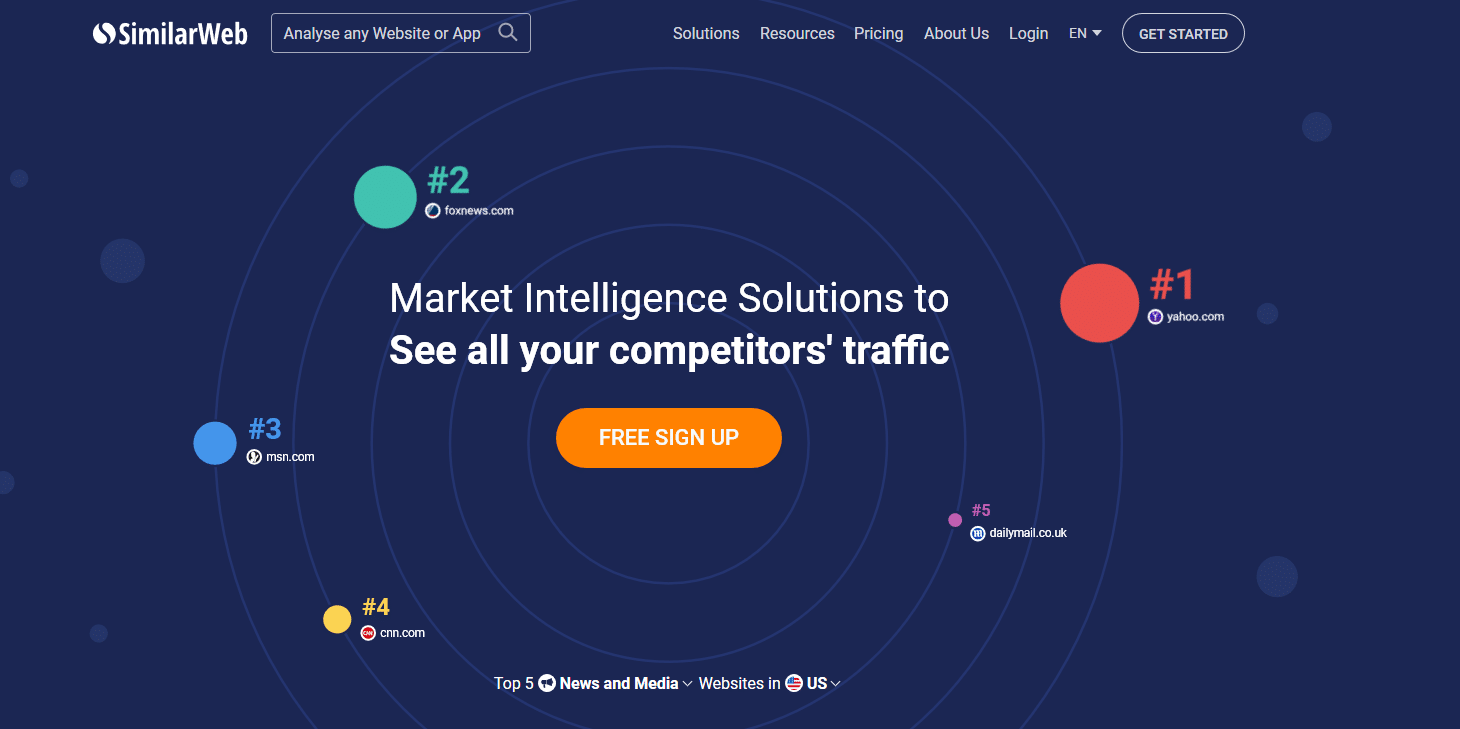 SimilarWeb is a popular web measurement and competitive intelligence tool. Its analytic resources allow you to monitor developing opportunities and business health. It can also help content marketers improve their decision-making processes.
SimilarWeb allows you to spy on the competition. It lets you assess similar sites, gathering critical intelligence to benchmark your site's performance. It allows you to learn about proven business techniques and new growth opportunities.
SEMrush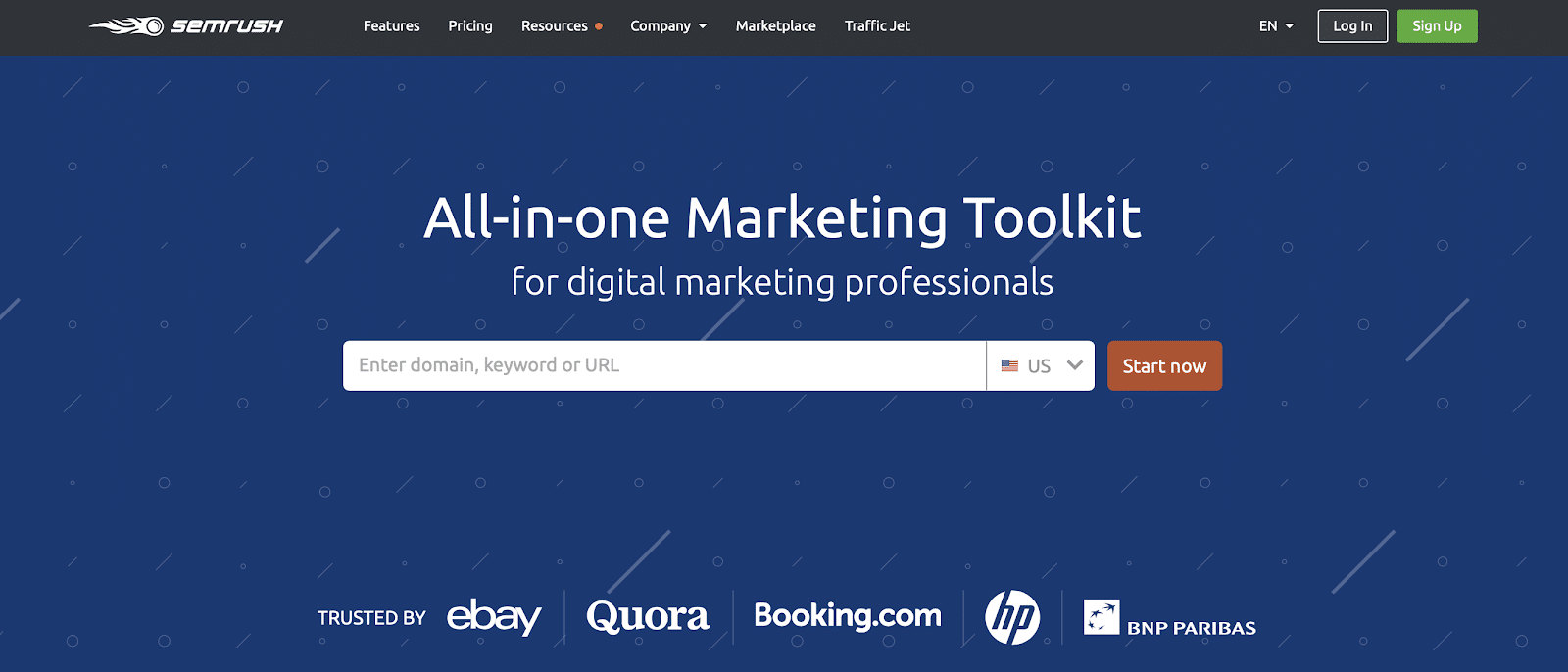 SEMrush represents a more holistic option when it comes to managing digital marketing. It monitors traffic analysis along several marketing channels. Its data lets digital marketers make smarter decisions.
The service also boasts an auditing tool that allows you to identify possible SEO weaknesses. When you address these issues, expect to see improvements in your rankings. 
SEMrush provides critical insight into rival websites. It lets you assess competitor digital marketing campaigns. It also keeps you in the loop when it comes to the topics that your target customers search.
Now that we've got basic introductions out of the way, let's dive into the nitty-gritty about features associated with each platform. At the top of our list is data collection. After all, the accuracy of each tool depends on how and what data gets collected.
SimilarWeb and Data Collection
For comprehensive data collection and web information gathering, you need a decent web crawler. SimilarWeb has one. It scans websites and search engine results pages (SERPs) thoroughly.
SimilarWeb complements its web crawler by generating additional critical data and traffic details. How does this work? Through its user panel.
When you download SimilarWeb's add-ons, apps, and plugins, you opt in to participate in the user panel. For example, their Chrome extension lets you track basic website metrics as you search the web.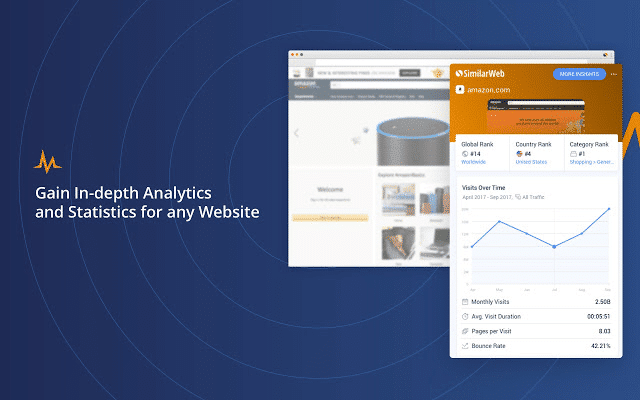 It also collects your browsing data. This information helps reinforce the service's database.
For this reason, SimilarWeb has access to some of the most extensive panels on the planet for web measurement. It is well-represented in North America, South America, and Europe.
SEMrush and Data Collection
As for SEMrush? It relies on its keyword database and clickstream data.
The service's keyword database is a powerful suite for SEO specialists and content marketers. Clickstream data allows SEMrush Traffic Analytics to be possible.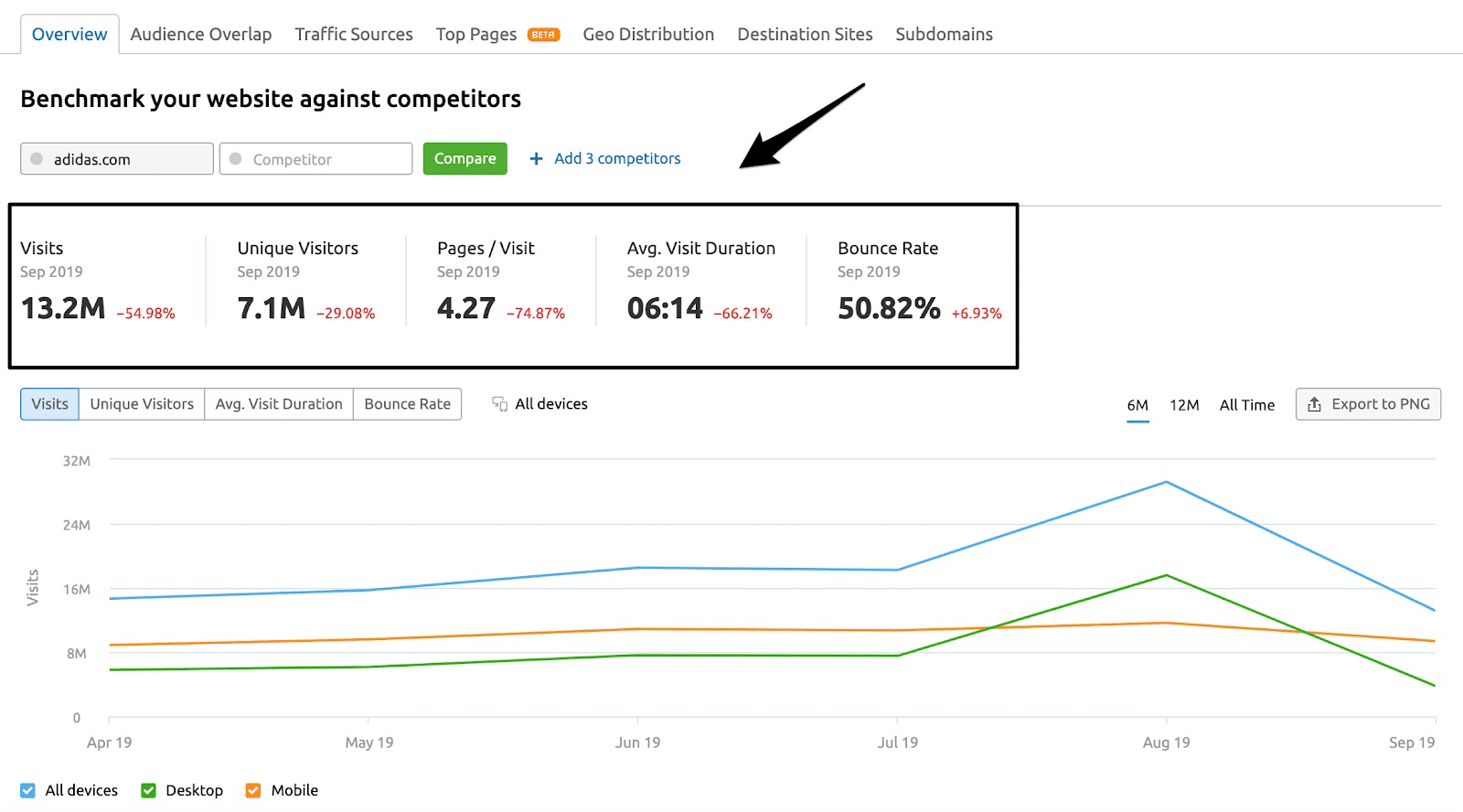 SEMrush takes a holistic approach when it comes to analyzing the World Wide Web. You see, multiple localized networks combine to create the World Wide Web. These networks vary in size, overall user preference, and search patterns.
As a result, Google has numerous localized versions. The ranking of each version gets dictated by localized SEO. This process has a direct impact on website traffic. 
To tackle all of these local versions, SEMrush uses several crawling systems. These different systems crawl through all the search engine local versions, establishing corresponding data sets. At this point, the service has collected 500TB of raw clickstream data from 200M panelists.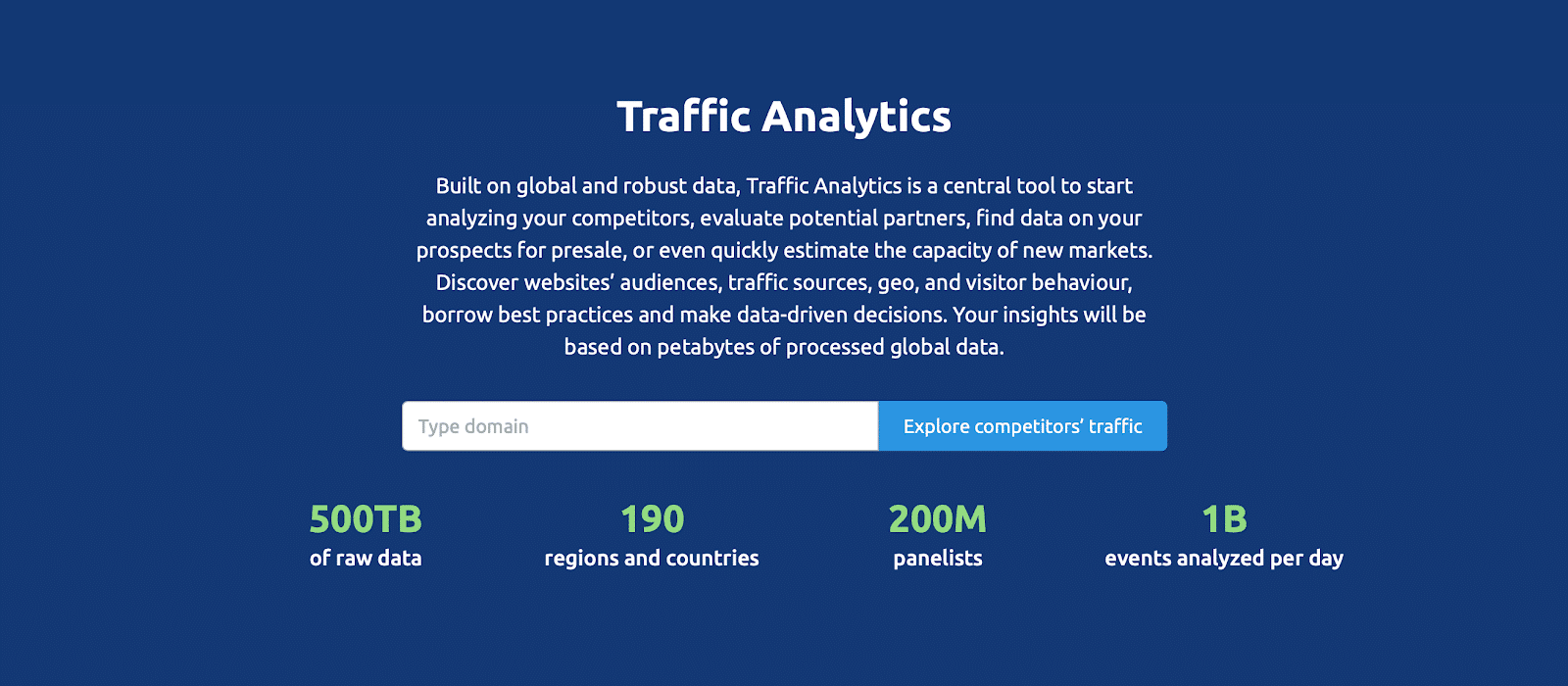 It boasts access to 16.4 billion keywords globally. These represent the most searched keywords around the world. SEMrush updates them with the freshest terms regularly.
The Data Collection Takeaway 
Both services provide access to a plethora of internet data. However, neither product can provide full access to all of the internet. Nonetheless, you'll enjoy a relevant cross-section of data based on traffic patterns and trending keywords. 
SEMrush offers information from 190 countries with the ability to filter by location. All regions are available in one subscription. With a subscription, you also gain access to the company's advertising campaigns, content across media, and keyword strategy.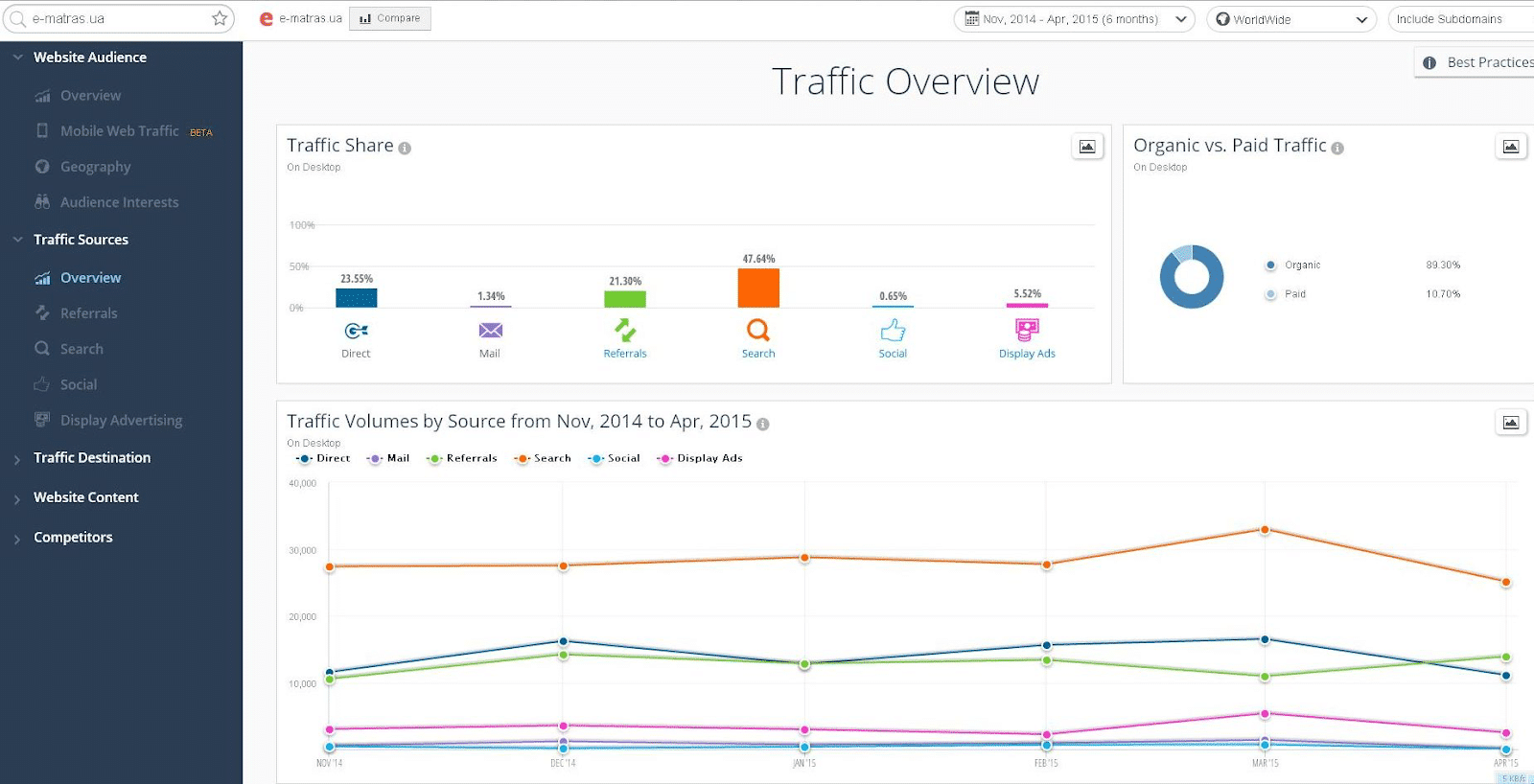 Here's a critical differentiator, however. SEMrush Traffic Analytics provides fully available mobile traffic data.
As for SimilarWeb? You must purchase this data separately.
Since the marketing spend on mobile traffic share will skyrocket by approximately 70 percent in the next five years, SEMrush Traffic Analytics remains the better and more helpful product. Find out more about the importance of mobile traffic in 2020. 
Demographics and Audience Analysis
SimilarWeb provides analyses of audience demographics, geography, and interests. You'll find traffic sources audience overlap between websites, though. Unfortunately, SimilarWeb does nothing to address this pervasive issue. It can have a significant impact on data. 
As for SEMrush Traffic Analytics? The tool checks audience overlap, removing related inaccuracies from the game. Learn more about their audience overlap report tool.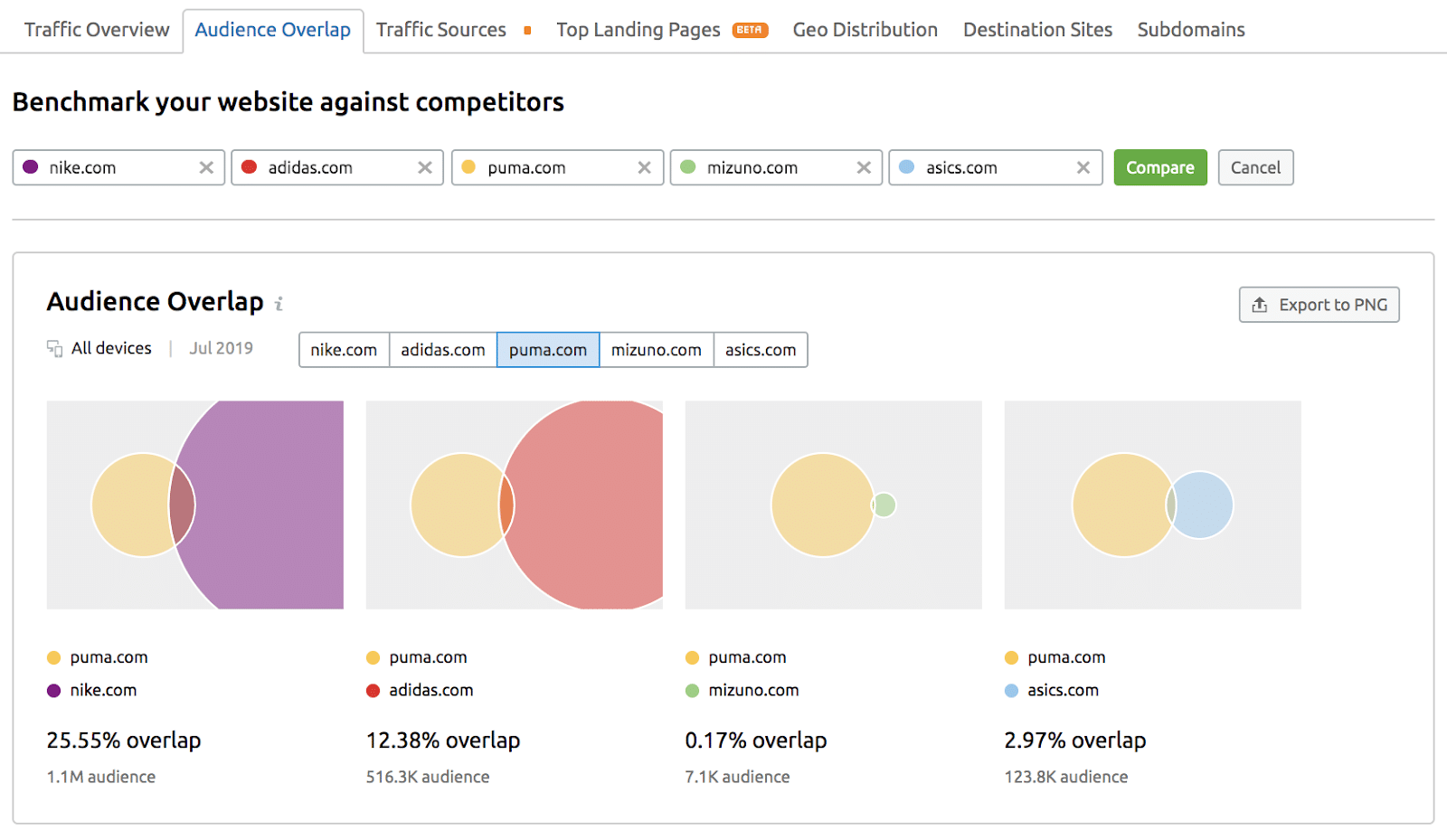 With a subscription, you'll also gain access to the new Marketer tool. This tool lets you discover demographics (e.g., gender and age) and interests of the in-market audience.
The features also allow you to explore similar websites, a critical component of upping your company's digital marketing game. 
SimilarWeb vs SEMrush: Industry Analysis 
SimilarWeb provides specific industry analysis of critical criteria. For example, you can check performance by category, traffic, share, and readers of the industry. You can also benchmark your company against these metrics.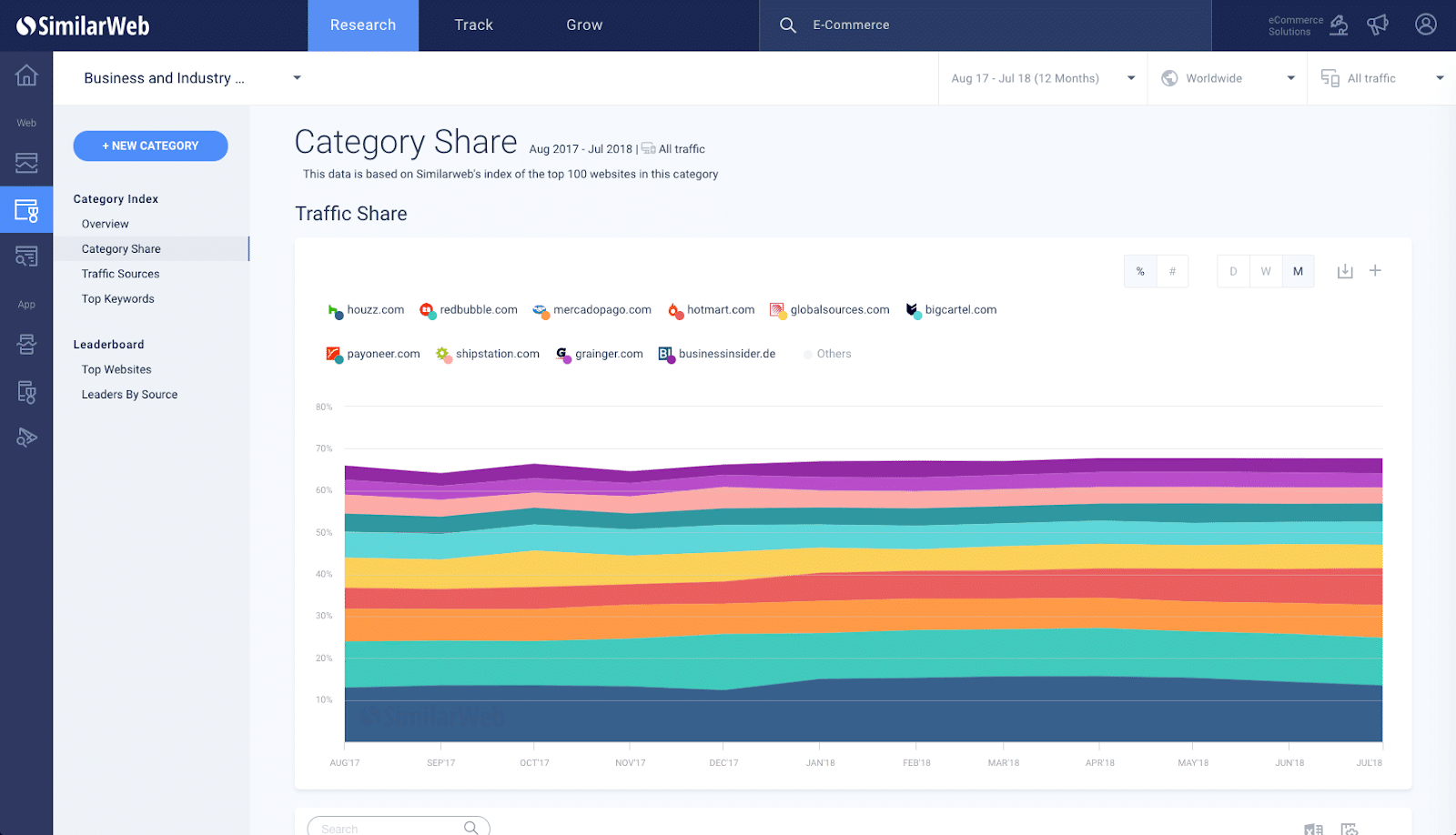 SimilarWeb doesn't analyze single players' pace of growth, however, which proves a major shortcoming.
As for SEMrush, industry analysis comes in the form of its Market Explorer tool. This tool lets you see a list of relevant competitor websites. Relying on SEMrush's algorithms, the domains you'll see belong to key players in the same market and industry.
Market Explorer also boasts a new tool that assesses the growth rate of market players, along with their current audience size. This tool is visually comprehensible. It proves insightful for competitive bench-marking and new market research, too.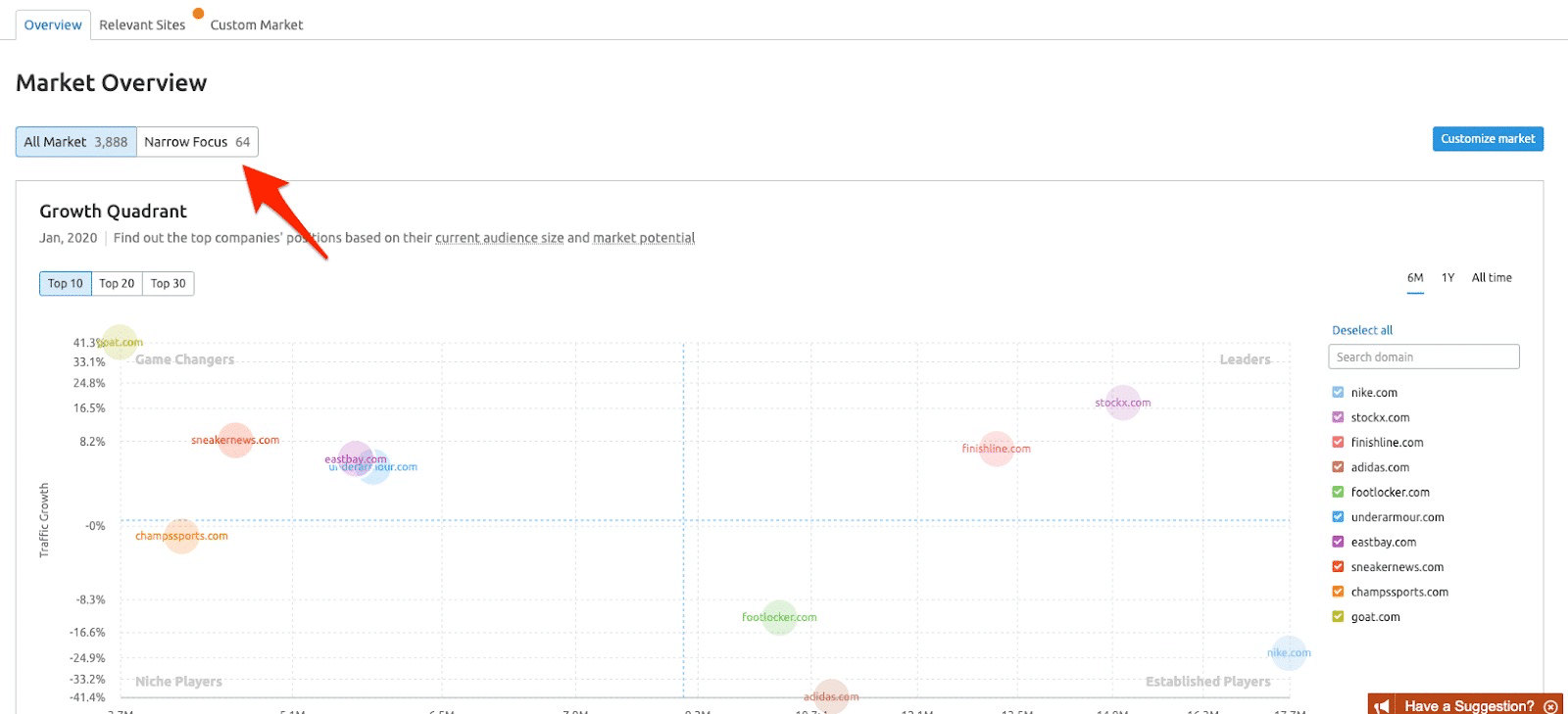 To sum it up, SEMrush comes with greater capacity. Their extra feature is also included in the price of Traffic Analytics. As a result, SEMrush remains a higher-performing tool for industry analysis.
SimilarWeb vs SEMrush: Accuracy
Of course, what's the point of collecting traffic share data if it isn't accurate? How do SimilarWeb and SEMrush compare in this area? Both analytics tools rely on similar clickstream data collection and algorithms to project and estimate.
As a result, discrepancies prove inevitable. Now, keep in mind that both services function best for competitive analysis. As a result, they always tell the most about comparative data.
To get the most accurate data, use the investigated data for benchmarking, comparing rivals with each other, and identifying trends.
SimiliarWeb excels at high-level market estimates. As a result, you should also expect a wide margin of error. When it's all said and done, SimilarWeb relies on user panels and web crawlers as data sources to understand critical marketing insights. 
As for SEMrush? The tool draws from databases which hold more than 18.8 billion keywords from different parts of the planet. While SimilarWeb may present fairly accurate data related to overall size, SEMrush does MUCH better when it comes to keyword research.