Learn how to use these backlink checker platforms to estimate how many links a website gets and which domains are improving their SEO.
This article will not list every backlink checker service available, just a few paid and free backlink checkers that I really like to use for my own websites.
Finding out how many links a website has or if they have been buying links can help you better understand what is needed to reach a higher position in search engines.
Using these services you will be able to 
Check how many backlinks a website has
Find the best links a site may have
Copy a competitors backlinks
How do you check the backlinks of your own website?
Use a tool such as Google Search Console to check your own website.
Use a free service listed below
Enter your website URL in the box above to view your traffic.
In this guide we will be covering a few platforms that I like to use to find quality backlinks or check how many backlinks a site might have
Paid Tools
Free Tools
SEMrush
SEMrush can let us view backlinks by using their Domain Overview tool which has 8 tabs.
Overview
Backlinks
Anchors
Referring Domains
Referring IPs
Indexed Pages
Competitors
SEMrush Backlink
There overview page gives you a nice big picture of how the website is performing. You can quickly see amount of referring domains, backlinks, monthly visits and even keywords.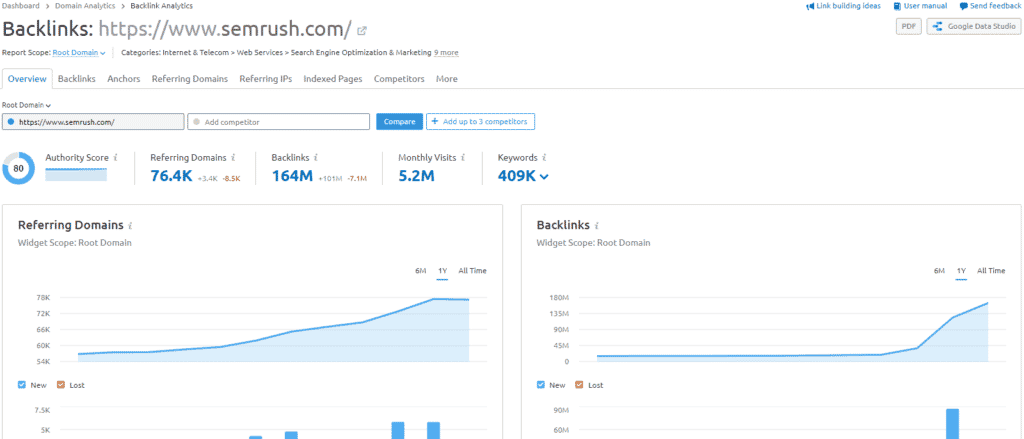 Top anchors
A very useful tool, especially if you plan on copying your competitors backlink profile. Here you can see a breakdown of anchors used and how many backlinks each keyword has. At the time of taking this screenshot I could not get the chart for SEMrush anchors to load, it normally shows the percentages.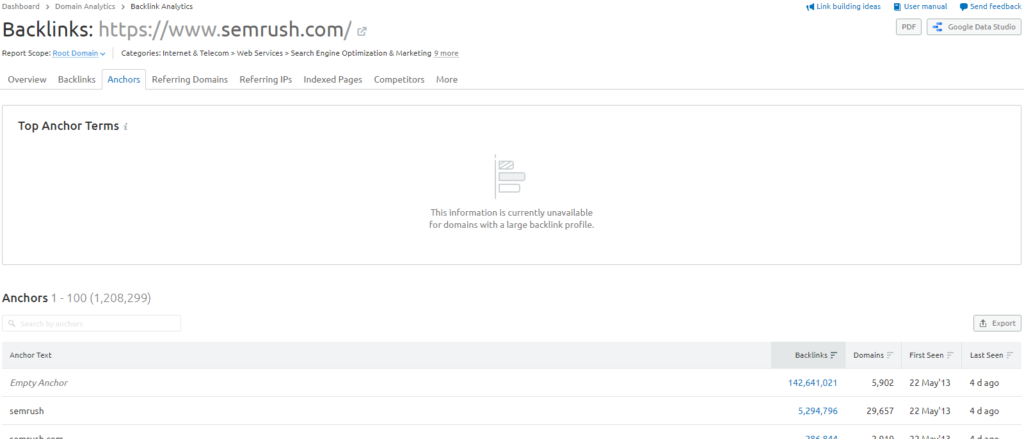 View referring domains
The referring domains page lets you check which TLD and country each backlink is from and how many times a domain links to the website you are viewing. This is great tool to use on our own site as you can quickly spot any spam domains that may be worth looking into removing.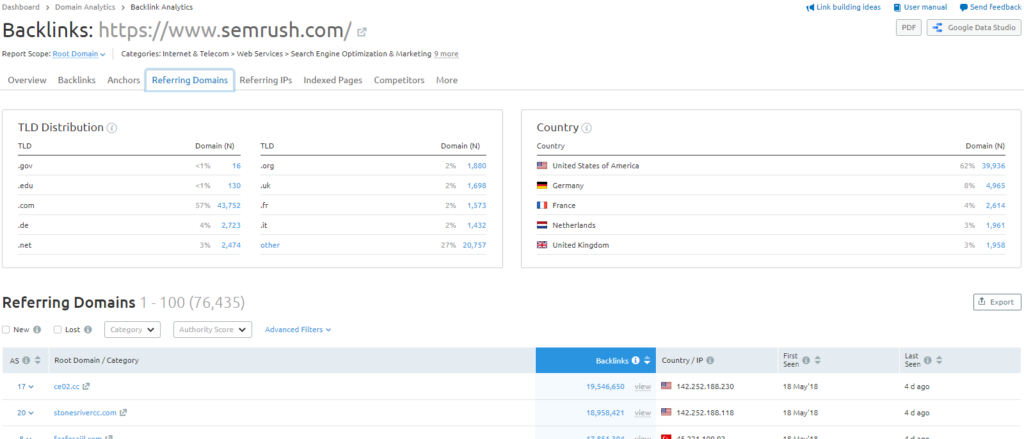 Backlinks by IPs
This tab lets you see which ips are linking to your site the most, you will probably see a lot of web 2.0 platforms such as blogspot, wordpress etc. Clicking on an IP will give you further information such as all the domains associated with the address.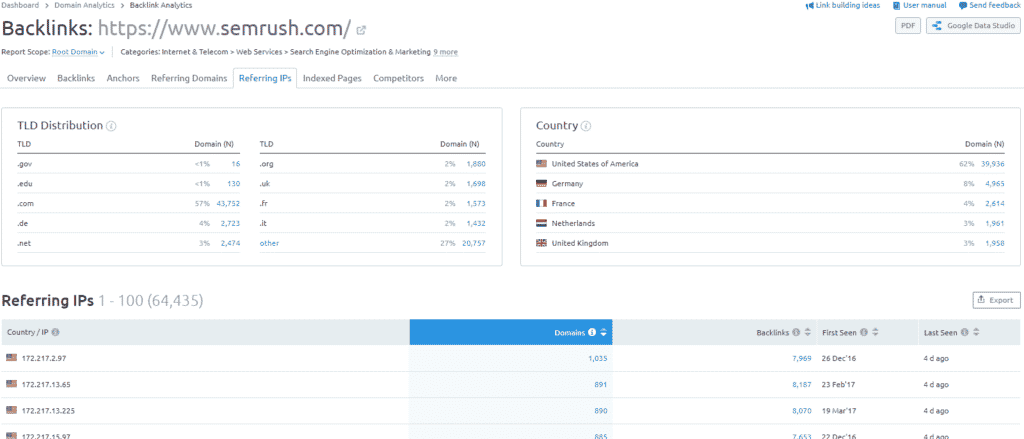 Indexed Pages
This tab lets us view internal links that are indexed already in Google and how many backlink each one has. We can sort by domain, backlink list and first or last seen and of course export the data.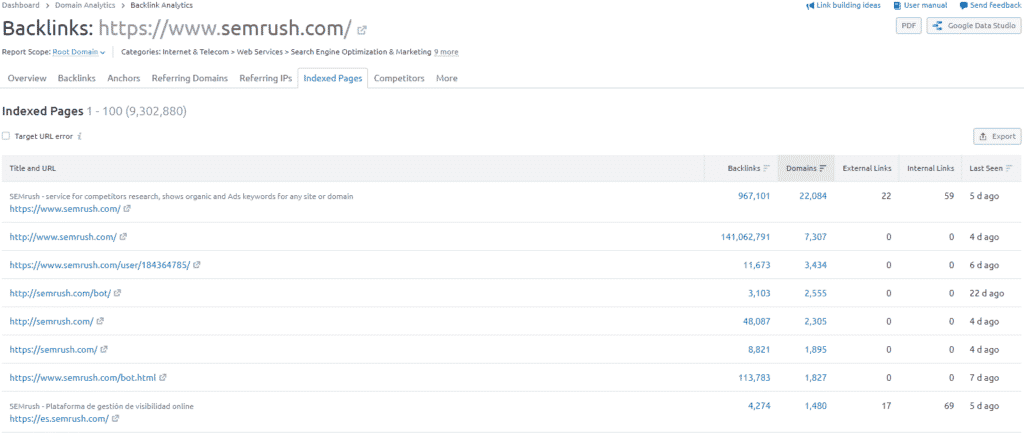 Competition based on backlinks
The final tab is a nice list of competitors based on your backlink profile. SEMrush splits this data into tables sorted by Authority Score, Competition Level, Common Referring Domains, Total Referring Domains and Backlinks. This is a great tab to find those links that your competitors have that you don't.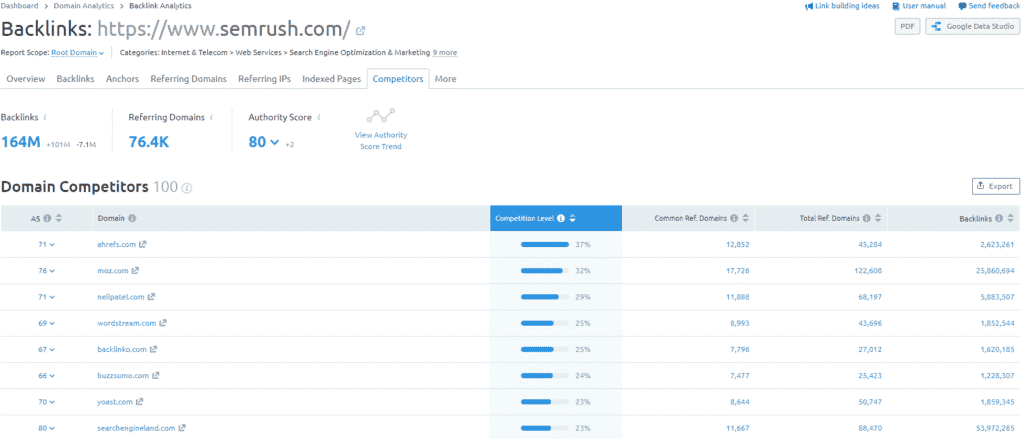 SEMrush Verdict
Its our favorite all rounder, the data they have and how easy it is to read makes understanding your own and competitors site a simple task.
We here at traffic masters use SEMrush daily to help check backlinks and keep an eye on our competitors using their traffic checker tool.
SEMrush is paid service but we have a great 7 day free trial for our readers!
Click the link below to get started.
Cancel At Any Time!
---
Ahrefs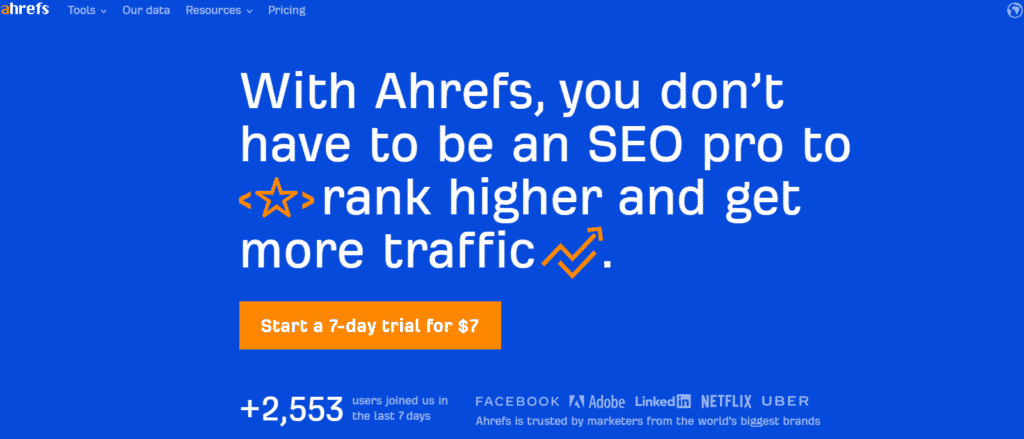 Ahrefs was built from the ground up to find backlink data across the web and it shows. Their tools and interface make finding backlinking opportunities easier than the leading competitors. The main reporting tools we are interested in for checking backlinks are split into 8 sections.
Backlink Profile
Backlink Overview
New & Lost
Broken
Referring domains
New & Lost
Anchors
Referring IPs
Internal Backlinks
Link Intersect
Pages
Best by links
Best by links' growth
Outgoing links
Linked domains
Anchors
Broken links
Ahrefs Backlinks
Ahrefs have the best UX out of all SaaS products I use, everything is easy to find with great filters to export data if needed. After entering a URL to check their backlinks we are given a nice overview of referring pages sorted by UR rating. We can easily sort and filter this data by link type, platform, language or even search for links with specific words. This is how most Ahref tabs will look with a nice sortable table.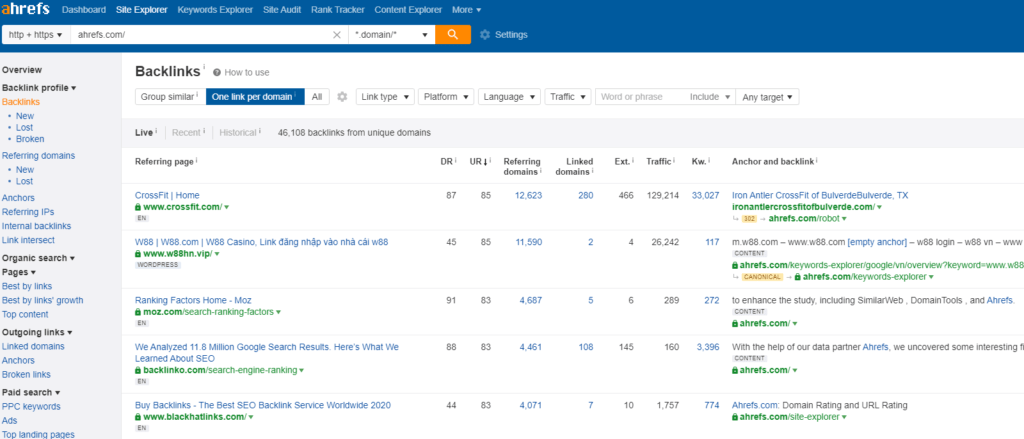 New & Lost Backlinks
This tab lets us find the latest backlinks Ahrefs have found for the entered domain. By default it shows the last 3 months worth of data, green links are found and red are lost. Below the calendar we get the table of links found this time sorted by how long ago they were found. You can change dates for more data or click on a specific day to just view those links.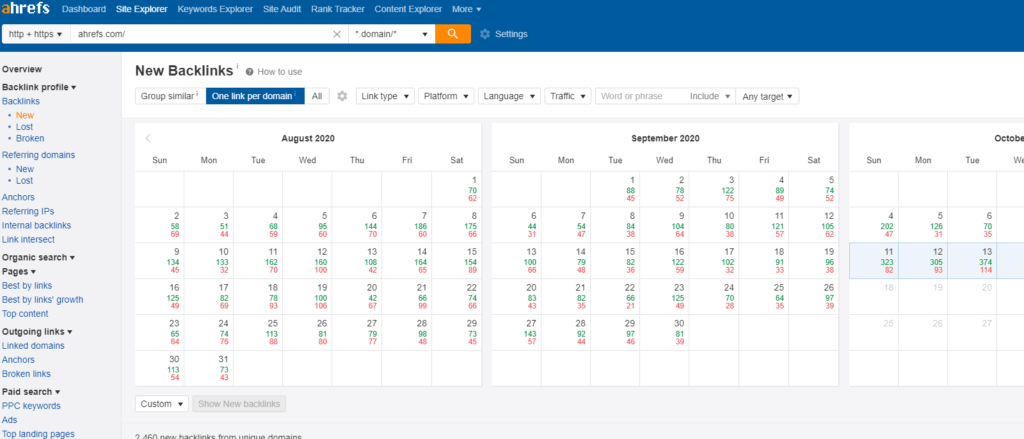 Broken Links
The broken tab comes in really handy for checking backlinks that have either been removed or are no longer working. If you find a piece of content with lots of broken links you could recreate your own version then reach out to the website owner to inform them the link is now a 404 and you actually have a better version. This is called broken link building.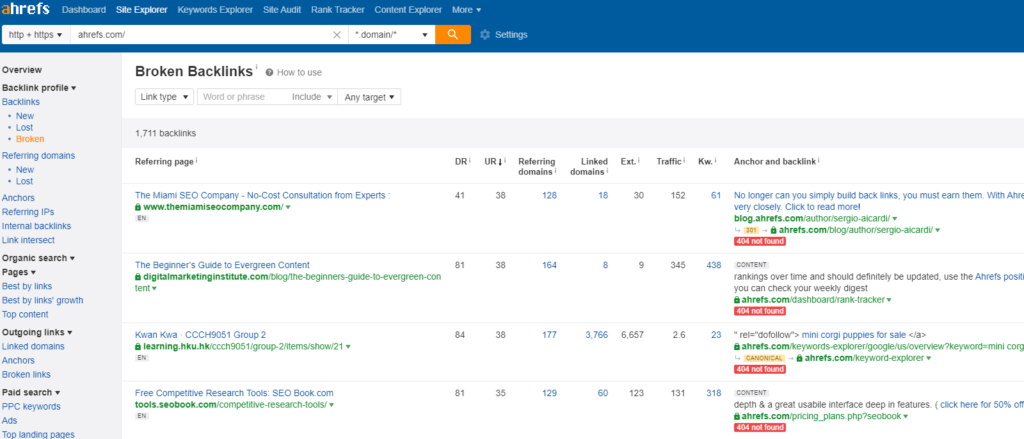 New & Lost Referring Domains
Similar to the new and lost backlink tab this time instead of listing each individual page we just see the domain address. You can click on the backlink button next to each domain to check how many individual links are coming from each site.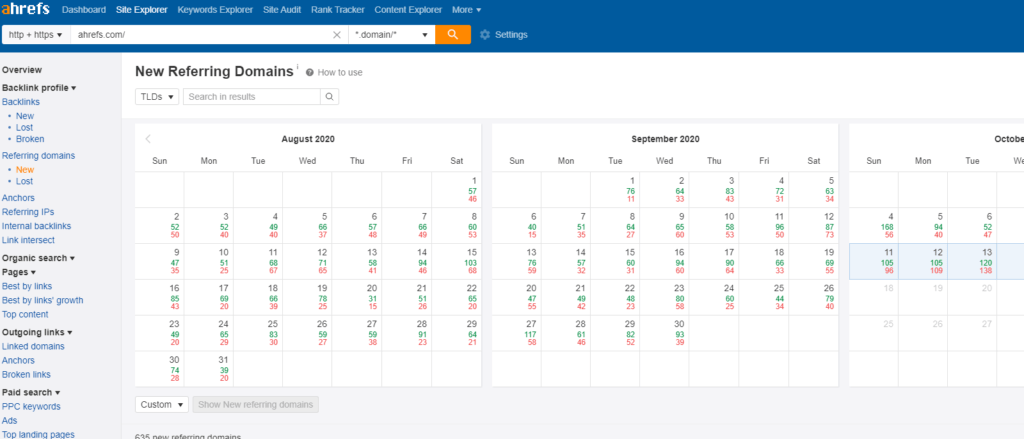 Anchors
Anchor ratio is very important when building links, if you target too many similar keywords and it looks unnatural then you can end up receiving a penalty from google and losing rank. The Ahrefs anchor tab is great for checking your competitors backlinks to see how what keywords they have been targeting. Most high ranking sites mostly use brand terms or related mixed with generic terms such as "here, site, read".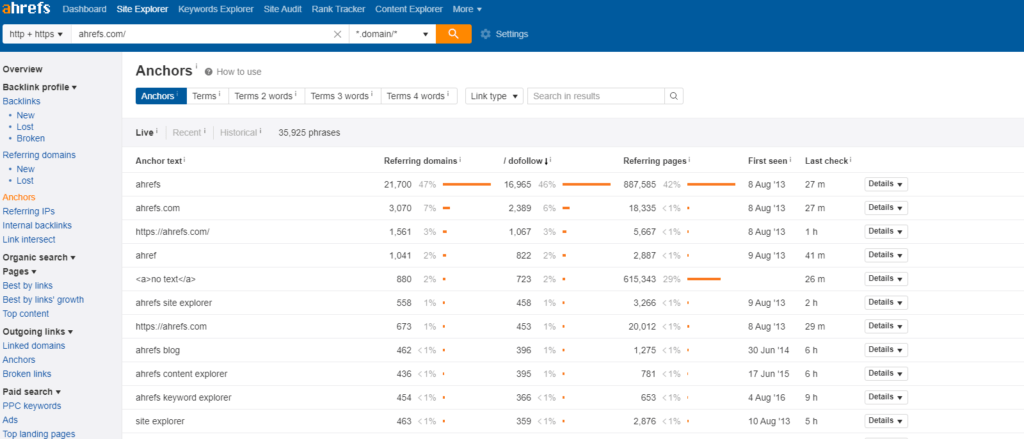 Referring IPs
I haven't used this tab myself much, ahrefs gives you a breakdown of all ips linking to your site. The top results will almost always be web 2.0s such as blogspot, wordpress etc.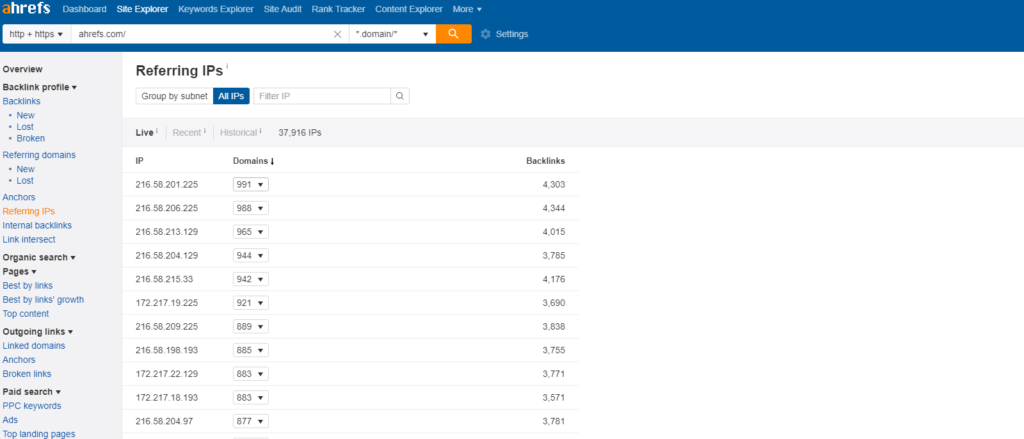 Internal Backlinks
Here you can view how a website is "built" in terms of inter linking pages and posts. Its a nice tool to quickly find how many internal backlinks there are. Personally I would rather use Screaming Frog SEO Spider as it has more features.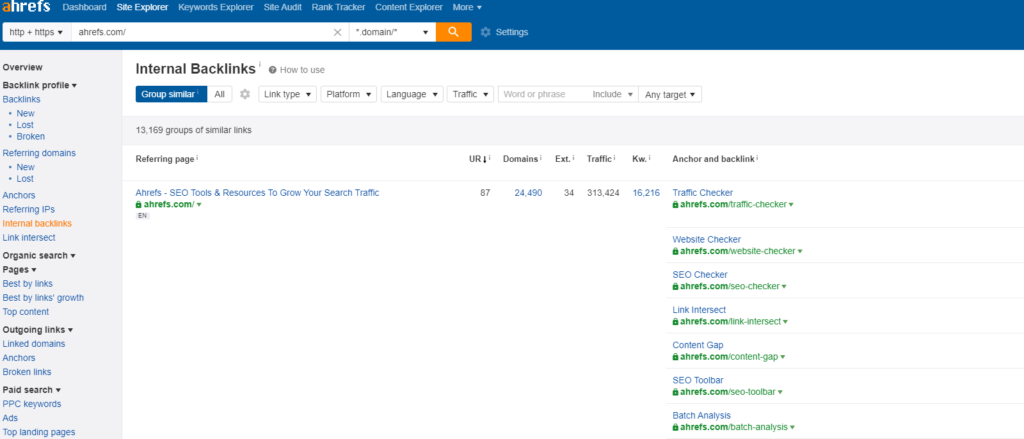 Link Intersect
If you are looking to check which backlinks your competitors have but you don't then this is the tool for you. You can enter three or more competitors and Ahrefs will find all links that they have that you are missing.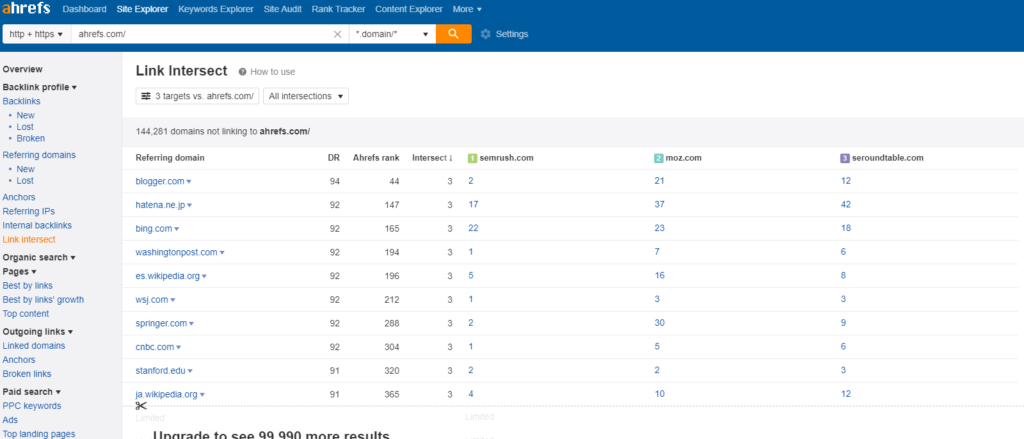 Best Links by Page
This reporting tool lets you view the best pages ranked by the volume of incoming links. This includes all subdomains and subfolders. Normally you would see a sites most important pages here (homepage and money pages etc)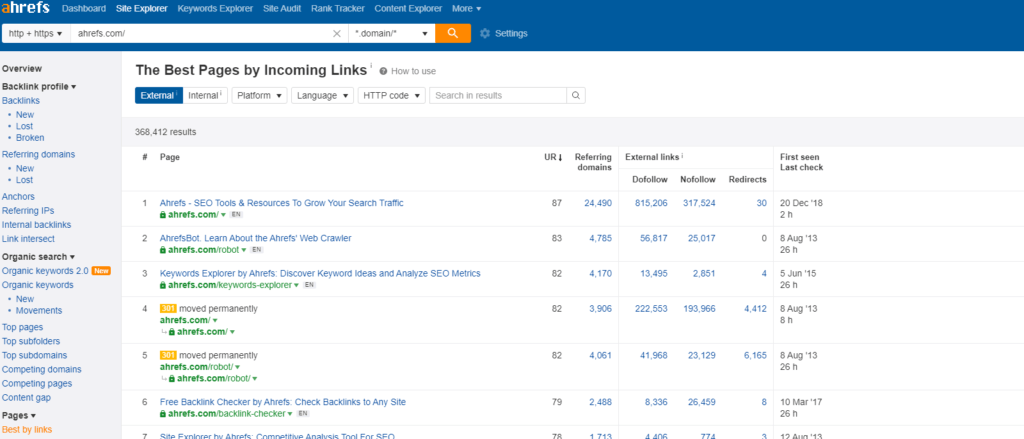 Best Links Growth
Same as above but this time ranked by growth. This is a great feature to find pages or posts your competitors may be doing on-going SEO on or just finding content that gets linked to regularly. Ahrefs sorts the data by 1, 7 and 30 days.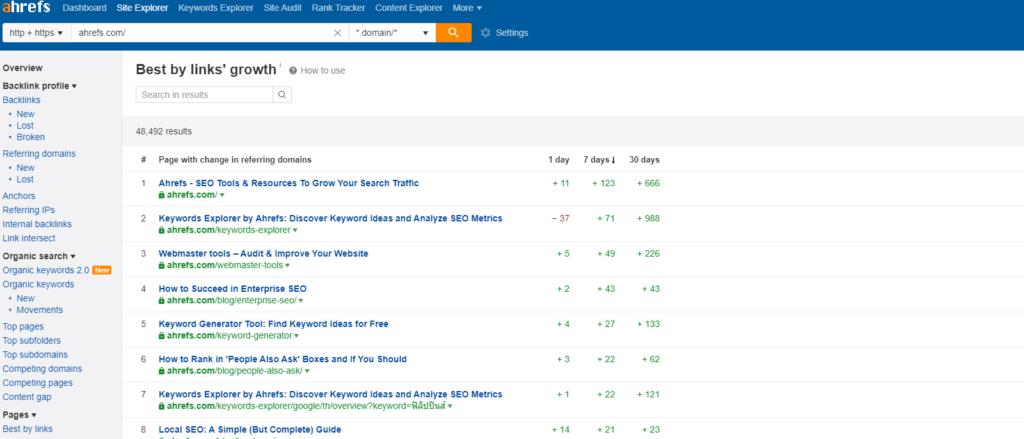 Outgoing Linked Domains
Get a report on the most outgoing linked domains from a website. This means how many times they are linking out to these sites. You will usually find social platforms and authority sites related to the niche here. As we can see ahrefs top outlinks are twitter and youtube where they post a ton of content daily.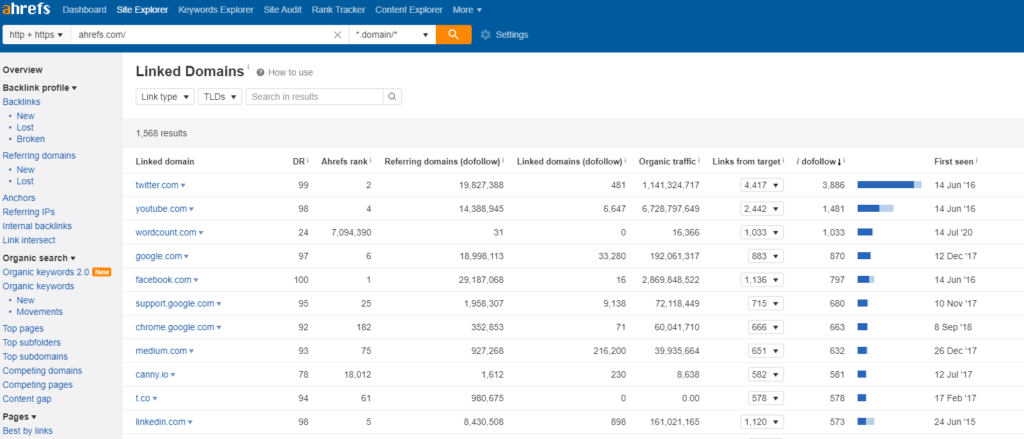 Outgoing Anchors
Exact same as the incoming backlink anchor report above, this time for links going out. Personally I have never used this report, it might be useful for some internal SEO reporting.
Outgoing Broken Links
Another favorite reporting tool of mine for SEO. Here you can find all the links that are leading to pages that are not loading. This data is gold for doing broken link outreach as you can simply inform the webmaster that his or her link is dead and direct them to your post (make sure the content matches and is great)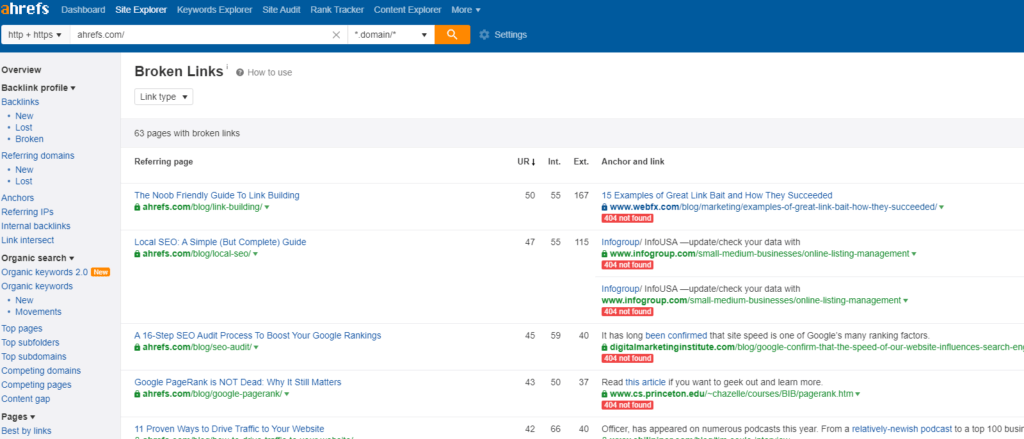 ---
Google Search Console
Googles own webmaster tools aka search console is a must have for anyone looking to checkback links, this can only be done on properties you own so if its the competition you are looking for then I recommend one of the options above.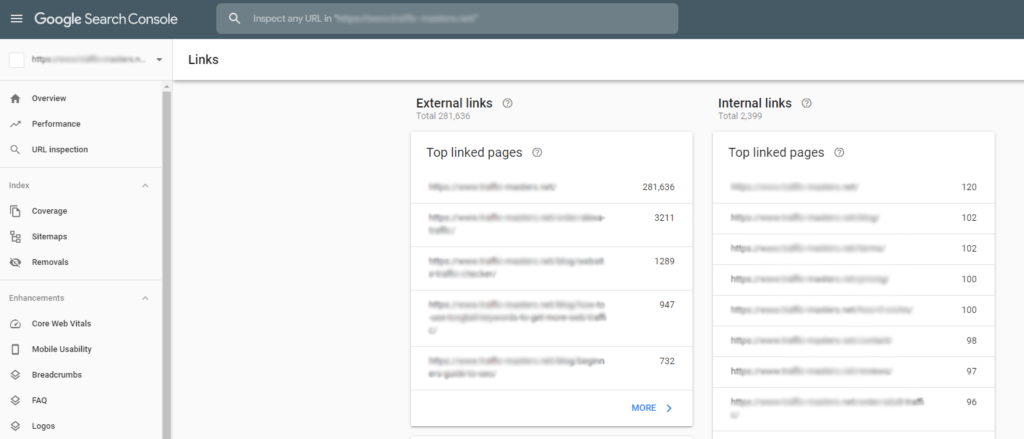 ts very basic compared to Ahrefs and SEMrush, you get a quick overview of all the links Google has indexed that point to your site. Its always worth checking out the latest links google has crawled to make sure nothing toxic comes through (spam etc). Its also good for keeping an eye on your anchor ratio to avoid penalties.
Top Linking Text
There is no set rule in anchor ratio for backlinks. I would recommend checking your competitors anchor ratio using ahrefs and trying to replicate it as best as you can.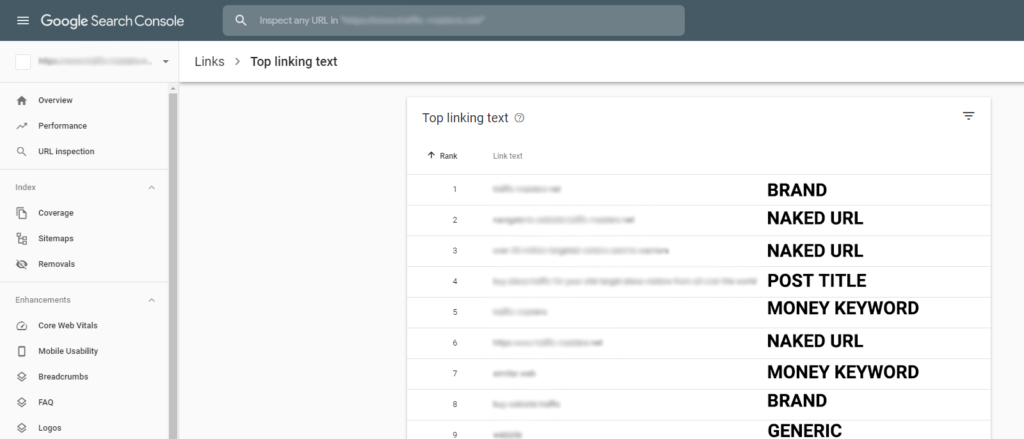 Which backlink checker is best?
My favorite tool for checking backlinks is Ahrefs, the data their robots / crawlers find cant be matched by third parties. I love their UX and the ability to export reports to spreadsheet for further analysis is great. The only draw back to Ahrefs is the cost, its not cheap and they only have a 7 day trial available.
If you only have one website or your just starting out then its probably best planning a full 7 days of use with their trial or paying a third party for a quick report / audit of your URL. You can find services that do this on fiverr.
The SEMrush platform is great for content creation, keyword data, PPC campaigns and performing site audits for technical SEO. There backlink tools and reports are OK just not as thorough as Ahrefs.
If you are interested in trying either platform then both Ahrefs and SEMrush have trial plans which you can use below.
Ahrefs – 7 Day Trial
SEMrush – 7 Day Trial (affiliate link)
* Third party sites can never be 100% accurate
Disclosure: This post may contain affiliate links, which means that if you click on one of the product links, I'll receive a small commission with no additional cost incurred to you.