Why You Should Activate a SEMrush Free Trial
Do you want to get a SEMrush free trial? Are you debating whether or not you should try one, or can't decide whether or not to choose a Pro or Guru plan? You've come to the right page!
SEMrush is an incredible tool, but the huge number of options available can be overwhelming, and more than a little confusing if you are new to the digital marketing platform. Is SEMrush worth it? We think so. But without testing it out yourself, how can you ever really know?
In this guide, we are going to explain why SEMrush is such a fantastic tool for SEO and digital marketing and provide you with a step-by-step guide on how you can sign up for a free 7-day Pro trial or our exclusive free 14-day Guru trial.
We will also talk about the main features of both trial plans, so you can decide which is the better option for you.
Feel free to click on any of the links below to skip ahead to the section most relevant to you:
Why Should I Use SEMrush?
SEMrush is a powerful all-in-one online marketing toolkit that is as popular with SEOs and digital marketing professionals, as it is with agencies, SMBs and global organizations.
Why? It's a SaaS product that helps SEOs, marketers and business owners successfully build and grow their online presence.
The tool excels as:
A comprehensive keyword research tool – to date, it has a whopping 20 billion keywords indexed in its keyword database
Tracking your domain's performance in the search results
Conducting extensive competitor analysis
Optimizing Google Ad campaigns.
And it's constantly adapting and expanding its toolkits. It's no wonder that over 6 million people worldwide use SEMrush for their SEO and digital marketing efforts.
How to Sign Up For a SEMrush Free Trial
To activate the SEMrush 7-day free trial for the Pro trial version or 14-day free trial of the Guru plan is simple and quick to do.
Follow these steps below to sign for a free trial with SEMrush.
1. Simply select the Pro (7-day trial) or Guru (14-day trial) buttons below to sign up for a free trial plan.
2. You'll need to sign up with a valid email address and choose a password. Select 'Create Your SEMrush Account'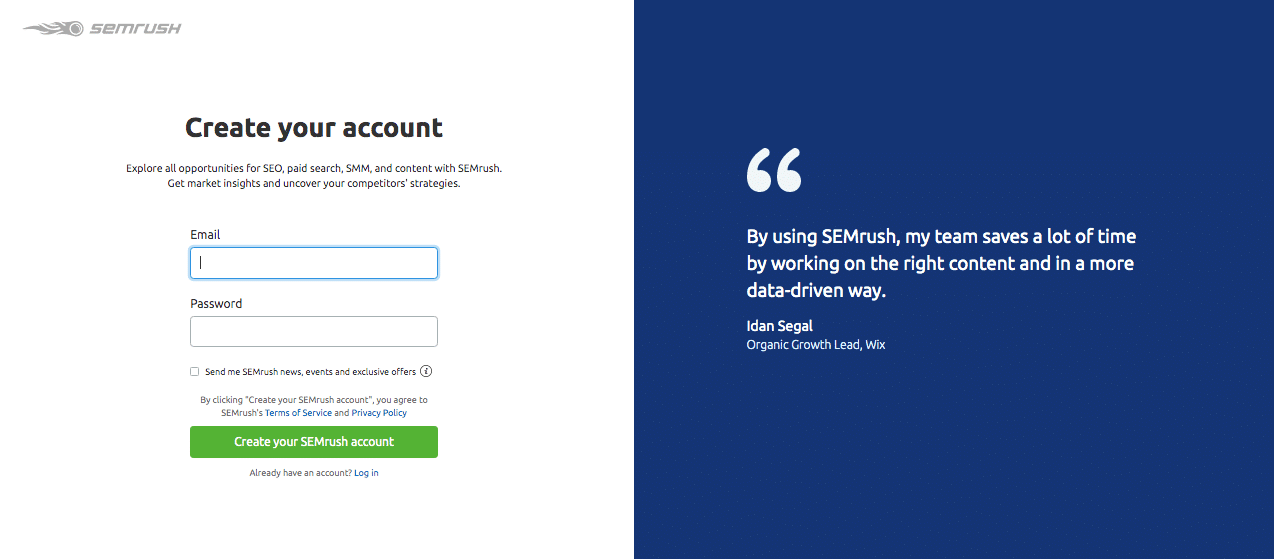 3. Next, put in your card details to activate your trial. Remember that after the free 7-day or 14-day trial period is over, you will be automatically charged the monthly subscription free.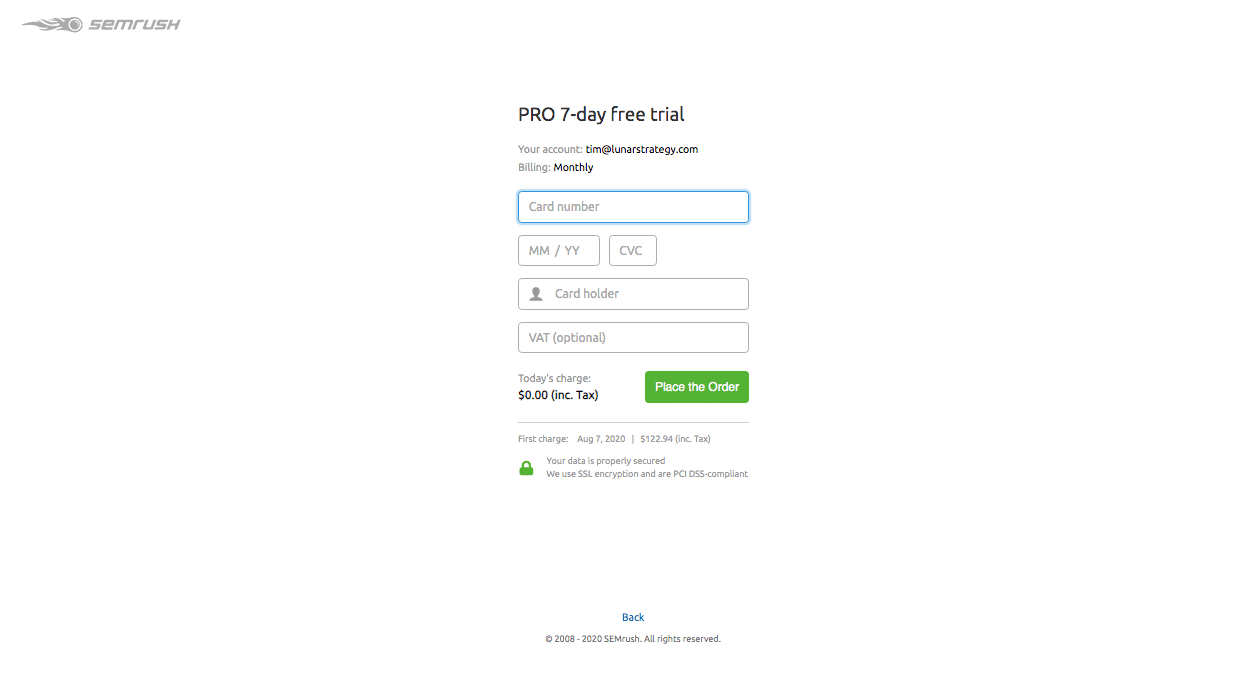 4. You're ready to go!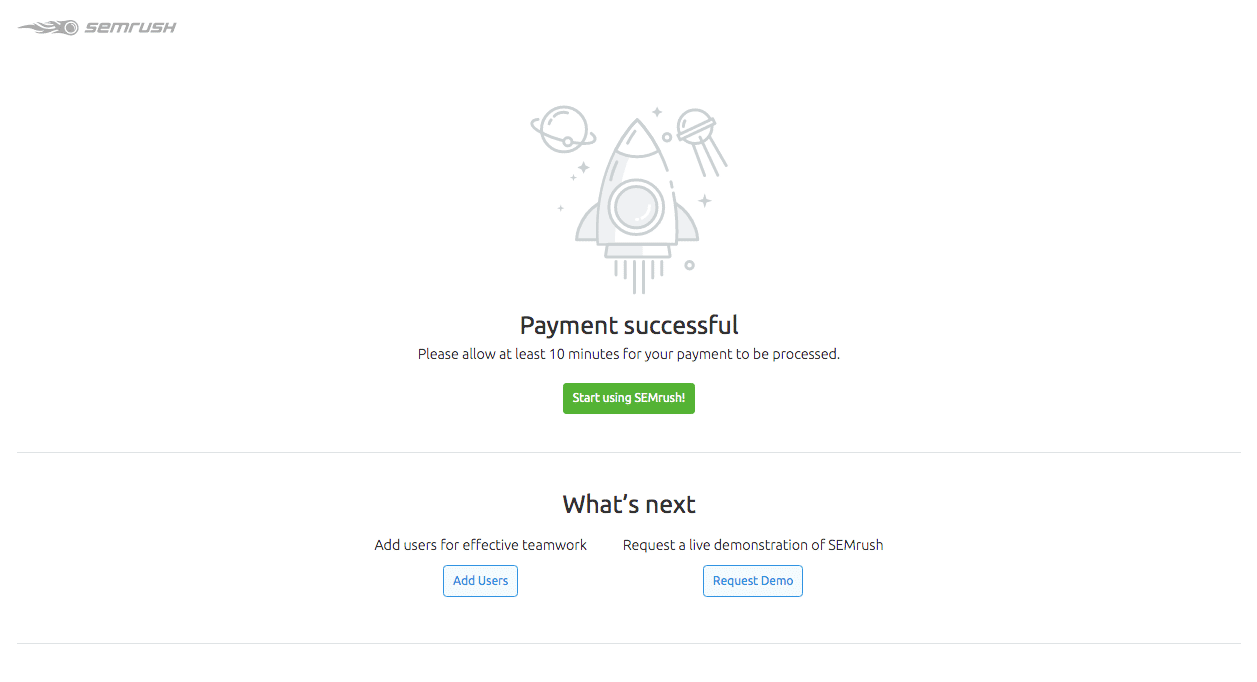 5. The last step is to select your main areas of interest for your SEMrush account. It can be skipped, but we advise choosing your preferred option to get the most out of your free trial.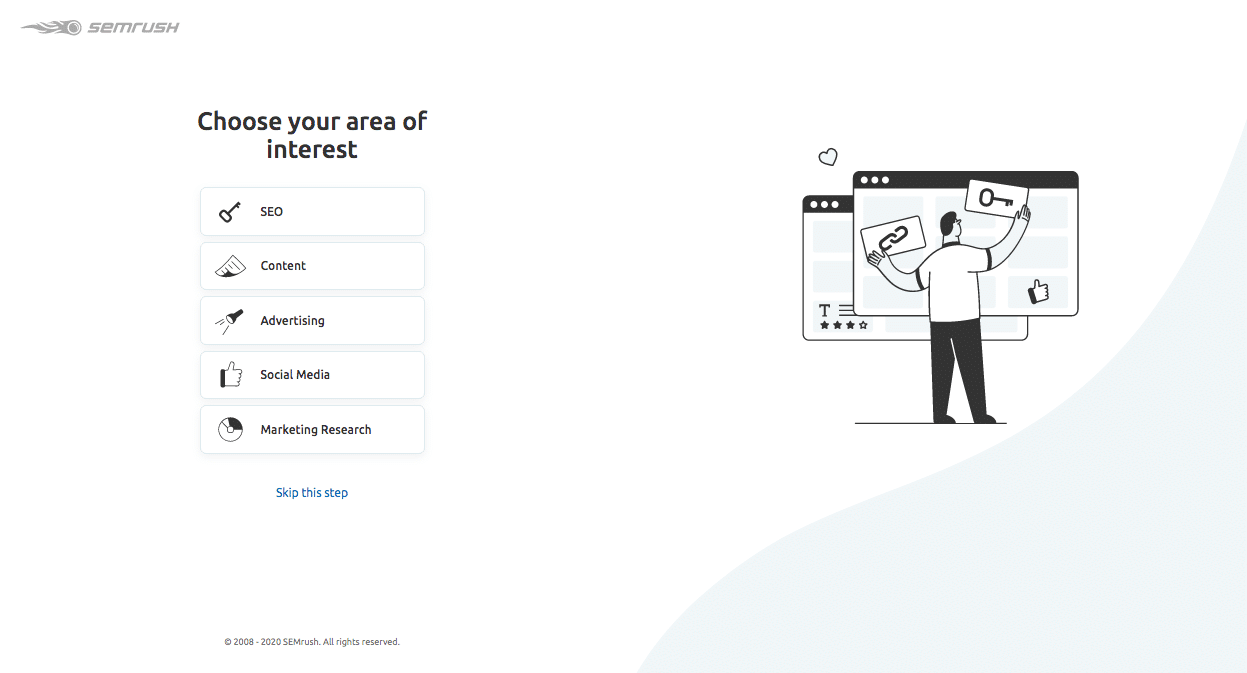 Which SEMrush Trial Plan Should I Choose?
What are the main differences between the SEMrush Pro and Guru trials, and which one should you pick?
The Pro plan is likely to better suit freelancers, marketing professionals, or those on a limited budget. It has a cap of managing 5 projects, and you will likely have all the tools you need to manage your existing sites.
Meanwhile, the Guru plan is better suited to SMBs and agencies needing to look after more than 5 projects at any given time. You still have all the same incredible features as the Pro plan, but you also have 45 tools in total to choose from. The Guru plan also has extended limits and you can manage up to 15 projects at once.
SEMrush Pro Free Trial
Perfect for freelancers, bloggers or those on a limited budget
Can track up to 5 projects
Monitor the daily position of up to 500 keywords
Crawls up to 100,000 pages per month
Up to 10,000 results per report
Up to 10 social media accounts for posting
5 scheduled PDF reports
$99.95 per month after the free trial
SEMrush Guru Free Trial
Best for SMBS and agencies
Receive all the Pro features with extended limits and access to more toolkits
Can track up to 15 projects
Up to 30,000 results per report
Crawls up to 300,000 pages monthly
Displays advertising research
Monitors the daily position of up to 1,500 keywords
20 scheduled PDF reports
Receive branded reports
Access to historical data
Can use the Content Marketing toolkit
$199.95 monthly
FAQs on SEMrush Trial Plans
Can I Get a Free Trial for Both a SEMrush Pro and Guru Plan?
It is strictly limited to one free trial per user, which is why you should carefully consider the plan that best suits your needs. To recap:
Do I Need to Provide Credit Card Details to Access My Free SEMrush Trial?
Yes, to activate your free trial plan with SEMrush, you will need to provide your credit card details when you register. You will only be charged a monthly subscription fee if you do not cancel the trial during the trial period.
Can I Cancel My SEMrush Trial Without Being Charged?
Yes, if you want to cancel the account before it is charged, you will need to submit a cancellation request to SEMrush before the trial ends.
You have two ways of doing this:
Submit your cancellation request to mail@semrush.com
Log in to SEMrush, go to the 'Subscription Info' page on your dashboard and follow the 'Contact Us' link, which will take you to the cancellation submission page.
Can I Still Use SEMrush After Cancelling a Free Trial?
Yes, if you cancel your trial plan, your account will be turned into a free SEMrush account. Keep in mind that the free SEMrush account has severe limitations on what you can access – you will not be able to use all the same tools and features you used during your free Pro trial or free Guru trial plan.
Why SEMrush Is The Key to SEO and Marketing Success
Let's take a closer look at the main features of SEMrush that absolutely make it worth your while to try out a free 7-day Pro trial or a free 14-day Guru trial.
Extensive Analysis of Competitors Keywords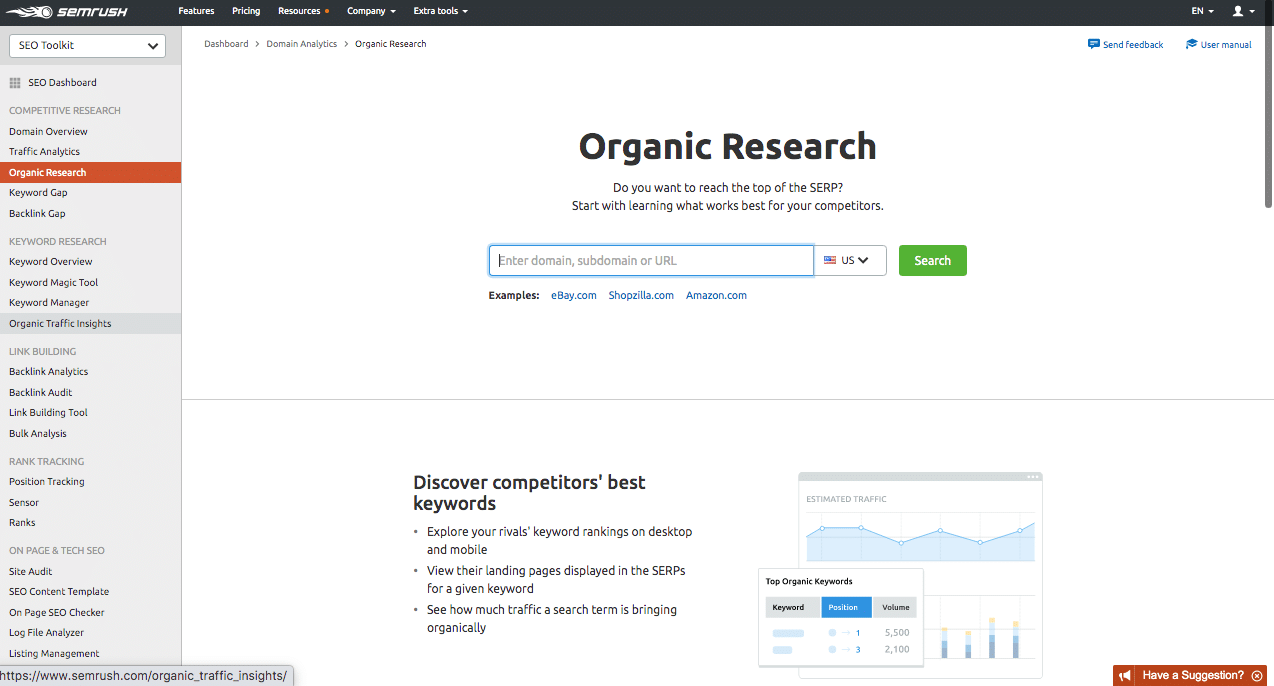 If you are an SEO consultant or a digital marketing professional, you know a thing or two about just how important competitor research is, especially when it comes to keywords. It can also be pretty time-consuming to complete without an SEO tool.
But SEMrush's Organic Research Tool makes this easy.
By gaining a better understanding of your competitor's keyword ranking and organic content marketing strategies, you can use this information to outperform them. And SEMrush provides you all these details at once.
You can find the Organic Research tool tab on the left side of the toolkit under 'Competitor Research' :
Some of the amazing things you can do with this tool include being able to uncover the best-performing keywords for your competitors on both mobile and desktop.
In the following example, I typed amazon.com into the search box. Below are just some of the many insights I discovered – with just one click.
1. You can see which keywords are gaining the most organic search traffic, view keyword position changes, and analyse keyword trends:


2. You can also find new organic competitors: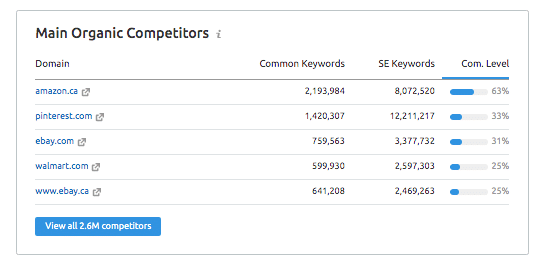 3. See which SERP features your competitors are ranking for with particular keywords:

4. View the top-performing landing pages:

And these are only some of the features of this powerful tool!
Generates Keyword Ideas Quickly
One of the key advantages of using SEMrush is its fantastic ability to uncover new keywords to use in just a matter of seconds. And in a number of ways too.
Using the 'Keyword Overview' tool under the Keyword Research tab, you can assess any given keyword for a number of variables, giving you valuable insights for your keyword strategy.
For instance, in the following example, I chose 'shoes' as my keyword. Instantly, I received the following data.
1. Keyword search volume (national and global), as well as keyword ranking difficulty, SERP features and keyword trends. You can also compare these against desktop and mobile:


2. You can also find a staggering number of  keyword variations: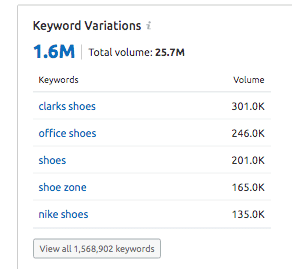 3. As well as many related keyword questions (valuable for long-tail keyword variations!)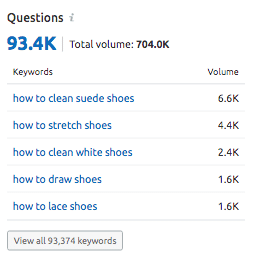 4. And related keywords too.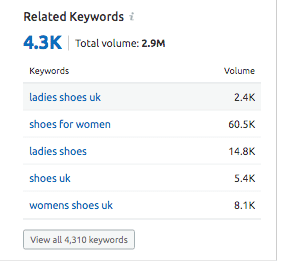 Another excellent feature within the Keyword Overview tab is the Keyword Magic tool, helping you to find hundreds of long-tail and secondary keywords, all by choosing just one seed keyword.
Analyse Your Backlink Profile (and Your Competitors Too)
Having a strong backlink profile is an essential part of SEO, as it can help improve your site's prominence in the search results, due to remaining a ranking factor for Google's organic ranking algorithm.
Both SEMrush's Pro and Guru plans help you easily identify and analyze backlink opportunities.
The Link Building tool helps you swiftly identify link building opportunities for your site, based on your chosen keywords and your competitors. Yo