How much more website traffic could you actually be getting to your website?
If you think that Facebook advertising is an industry trend that you don't really need, think again. Sure, you have a company Facebook page and you promote your content on a weekly basis, but that just isn't enough.
60 million businesses have a Facebook page, which means there's a lot of chatter online. So, how do you stand out? More importantly, how do you reach the people who matter?
We get it. Dipping your feet into Facebook marketing can be a daunting task. You probably have tons of questions about effectiveness, cost, metrics and audience building.
You're also probably overwhelmed by lots of sources attempting to show you the ropes.
But, your search ends here. If you want to buy website traffic for your website then it has never been easier!
Think of this article as a "Beginner's Guide to Facebook Ads." We'll explain how Facebook Ads can help you grow your audience and promote your content.
Why You Should Invest in Facebook Ads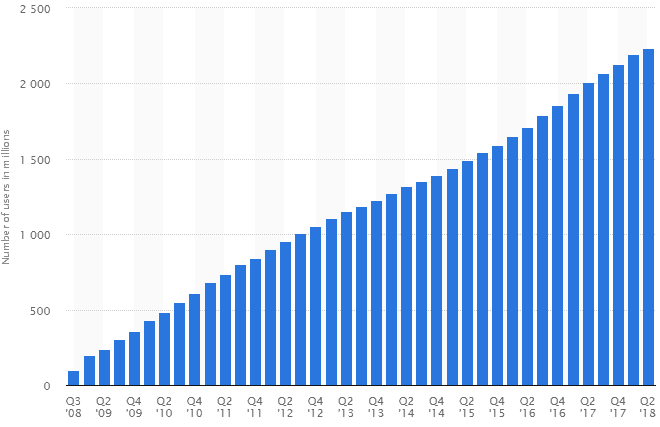 The reason why you should invest in Facebook Ads is simple. It's the only way that you can guarantee that your content isn't falling on deaf ears.
Facebook Ads does more than increase your reach. It ensures that your content gets in front of the right people. By using Facebook Ads, you're finally in control. With two billion daily active users on Facebook, there's a lot of opportunities for you to boost your business.
Facebook offers customization to build the perfect campaign for any business. However, this can be a double-edged sword. The varying of options can be confusing to a digital marketer beginner.
When done right, you'll appreciate the creative control you have over your ads.
For example, let's say you want to target healthy millennials who live in California. You can drill down to users who follow health food stores or attend certain events. You can even target those who interacted with your page or website.
Facebook does a great job at getting into the nitty-gritty of identifying your audience.
Another plus of running Facebook Ads is that Facebook owns Instagram. This means you get boosted on both platforms for the price of one!
Social media is one of the best online advertising strategies for increasing website traffic. Doubling-up on promotion is an outstanding benefit.
Fine-Tuning Your Strategy
Are you convinced that Facebook Ads is the next move for your business? Good!
The next step is to create a plan of action.
You're investing money into this so you want to do it right. Otherwise, you'll go down a rabbit hole of experimental digital marketing. That always ends in wasted resources and time.
Before you get started, ask yourself a few questions:
What specific product or services am I promoting? If your first instinct is "everything," dig deeper. Facebook Ads work best when you have a specific product or service that you're focusing on.
Who is your target audience? This is a big one.
The beauty of Facebook Ads is that they're built on the ability to fine-tune an audience. Don't make the mistake of thinking that everyone is your audience.
Remember, when you target everyone, you reach no one. We'll cover audiences in detail later on.
What is the problem that your product or service will solve? This question will help you craft content that reaches your audience in a compelling way. When they see your ad, you want them to feel like you're talking directly to them.
Once you answer these questions, congratulations! You've successfully built a strategy. Now, you can build strong ads.
Choose Your Objective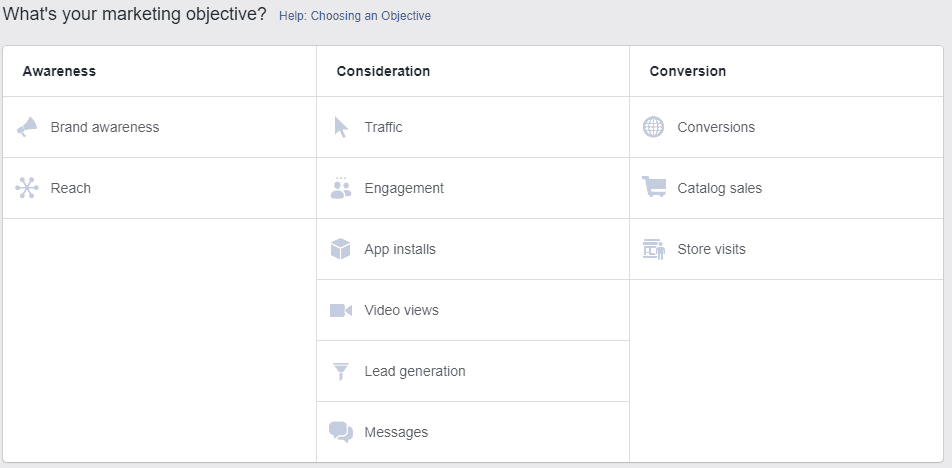 Once you go into the Ads Manager, one of the first decisions you'll make is choosing your objective. This is important because Facebook has different ad layouts based on objective.
If you're not sure what your objective is, it's actually simple.
What is the goal of your advertising? Are you trying to get more leads, build a subscriber list, get website traffic or something else? Facebook offers different ad layouts to help you achieve different goals.
Facebook offers the following objectives for you to choose from.
Brand awareness – Reach more people and increase awareness for your brand
Reach – Boost your content to more viewers
Traffic – Increase the number of visitors to your website or app page
Engagement – Get more viewers to engage with your content (sharing, liking or commenting)
App installs – Increase downloads of your mobile app
Video views – Get more views of your video content
Lead generation – Get contacts to build your leads list
Messages – Increase the number of messages your business page receives
Conversions – Get more viewers to use your website or app
Catalog sales – Showcase products based on audience
Store visits – Promote business locations to people who are nearby
You might be looking at those options and see a few that could be useful. But, resist the urge to choose too many objectives when you're starting out. Choose an objective that matches your underlying goals.
For example, if you have a video promoting a course, choose "conversions" instead of "video views." Conversions are better suited for the ultimate result that you want.
Remember, nothing is preventing you from running two campaigns with different objectives. You can run one "conversion" campaign and one "video views" campaign.
After a week, take a look at which performs best. This will be helpful data for future campaigns.
Target Your Audience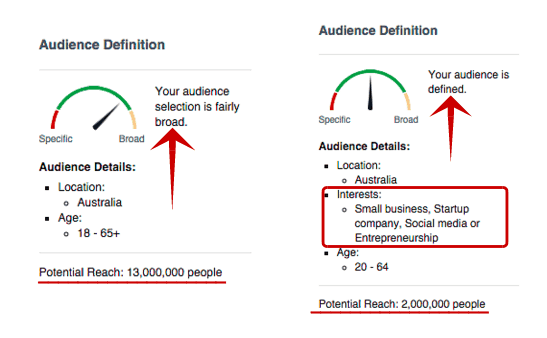 If you take anything away from this Beginner's Guide to Facebook Ads, take this: You need to identify and target your ideal audience.
Finding the right audience is the most critical part of Facebook advertising.
If you choose an audience that's not relevant to your ad, you'll waste your resources on reaching the wrong people. On the other hand, if your audience is too broad, you'll end up reaching people who aren't interested in your brand.
Identifying an audience is so much more than simple characteristics. For example, don't just say that your audience is women between the ages of 18-35. You need to consider everything about this audience.
What other company pages are they likely to follow? What languages do they speak? What area do they live in?
What kinds of causes and topics are they interested in?
If you're unsure, take a look at some of the users who interact with your content the most. Take notice of any trends and characteristics they have in common.
Facebook offers a wide range of ways to fine-tune your audience. Some of the most popular choices are:
Custom Audiences
This is for "retargeting" users who have interacted with your business. You can use an email list or users who've "liked" or engaged with your page.
Have you ever noticed a time where you visited a product page and the product seemed to "follow" you on a Facebook ad? That's retargeting.
It might take a little website coding, but the results are well worth it.
Lookalike Audiences
This is ideal for an objective of reaching new customers. This option allows you to replicate qualities from your custom audience.
Demographic Targeting
This requires you to know a lot about your audience. Know things like language, religious affiliation, race, gender, age, and other identifying factors.
Location Targeting
Do you have a local business? This is one type of targeting that you should consider. With this targeting type, smaller is better. You don't want to choose an audience too broad because it's unlikely to be relevant to a large group of people. Think small.
Interest/Behavior Targeting
Does your audience has a relevant niche or interest? Now is your time to use that. For example, you can target by:
Who are the authority figures, thought leaders, or big brands in your niche?
What books/magazines/newspapers does your ideal customer read?
What events do they attend?
What websites do they frequent?
What tools do they use?
You should avoid using generic interests, and choose very specific ones instead. Take some time to do research about your audience. The success of your Facebook Ads depends on it.
Allocating your Budget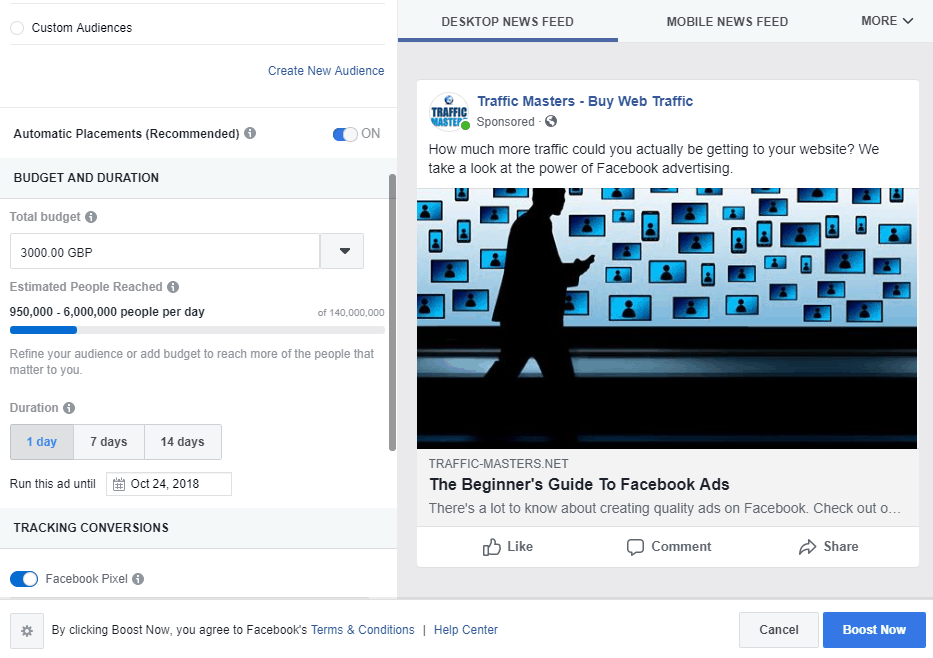 While some people worry about the cost of Facebook Ads, it doesn't have to be costly. In fact, the cost can improve depending on your relevance score. This is a score that Facebook gives your ads.
When your ad is a good fit for your target audience, your CPC (cost per click) or CPE (cost per engagement) is lower.
You can choose a daily budget and run your ads on certain days or a lifetime budget and run your ads indefinitely. You can also schedule your ads to run at certain times or certain days of the week.
On a campaign set up for CPC, you'll be charged for every click-through to your website. This is best for a conversion campaign. For a CPE campaign, you'll be charged for every interaction with a post. This is great for a video views campaign.
However, you can choose to change what you're bidding on. You also control whether you want to run your campaign for a short amount of time or stretch it out. You can even set a cap on how much you want to spend.
So, how much does Facebook advertising cost? It's really up to you and the audience you choose.
If you have a large group of people you're targeting, you'll likely have a higher CPC or CPE. You won't get a good idea for cost until you try it out for your business.
Creating Quality Facebook Ads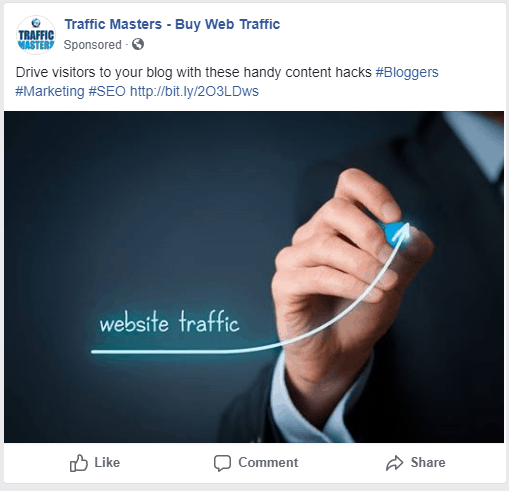 If you're going to put your money behind your Facebook ads, you want to make it worth it! As Facebook has recently added creative ad formats for you to choose from. Some of them include:
Carousel ads
Video ads
Canvas ads
Collections
Single image ads
Each ad type has its own unique benefits and relevancy to different objectives. For example, the video ads are an obvious choice for a video views objective. Companies who sell products find great success in carousel ads. For example, Amazon uses carousel ads to display retargeting ads.
Regardless of the campaign, you want to create highly engaging and shareable content. Take a look at the kinds of posts that do well and copy it.
Always aim for content that adds value, and speaks to your audience in a direct way. The most engaging content is visual, so use eye-catching visuals in your posts.
After you've started running your campaigns, monitor them carefully. Pay attention to the CPC/CPE to see what's working and what's not. You'll be able to turn off posts that aren't effective so you're not wasting money.
On the other hand, you may want to invest more in the types of posts that are doing well.
Spend some time digging through the Ads Manager to see the details of your campaigns.
Measuring your Success

Part of being successful at running Facebook Ads is being able to measure your success. It's a fact that some posts will perform better than others. But, don't jump too quickly to make conclusions about your campaigns. Give them at least three or four days before making a final decision.
You can find all that information in the Facebook Ads reports, so check your campaigns every few days.
So what does success look like for you? There are some industry benchmarks that can help you set goals for your campaigns.
You can also check campaigns by different breakdowns to see if you need to adjust your audience.
Find those hidden opportunities, and adjust your ad campaign to improve the results.
Wrapping up a Beginner's Guide to Facebook Ads
Facebook Ads has a lot of options to choose from. But once you know work out a strategy and build your audience, that will work to your advantage.
Now you can't let your lack of knowledge keep you from achieving success in digital marketing. You will always have this beginner's guide to Facebook Ads to refer to.
The most important thing to remember is that managing Facebook Ads is a learning process. Consider any downfalls as lessons to help you improve later on.
Will you start using Facebook Ads for your business? Too difficult? There is always easier platforms to buy traffic for your website from.
For more digital marketing advice, read our blog. Facebook Ads are just one of the ways you can generate leads and gain interest in your business.